Bryan Jones: "Sunseeker International's shift from traditional to digital marketing is permanent''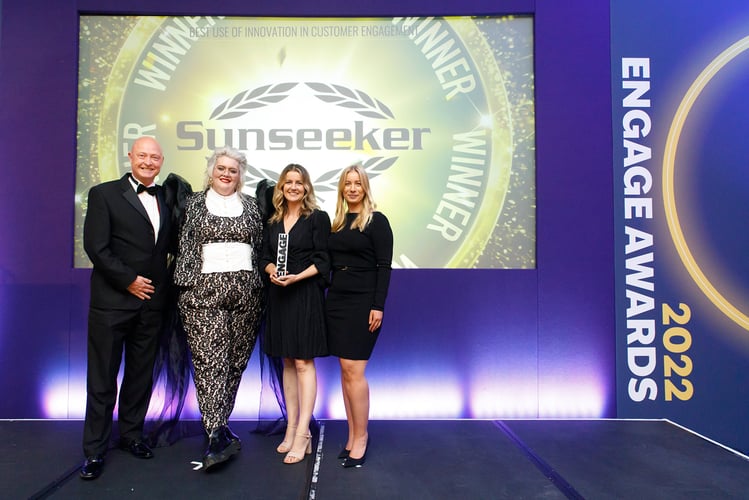 Sunseeker International won the Best Use of Innovation in Customer Engagement Award at our 2022 Engage Awards. The luxury motor yacht manufacturer earned this award for launching 5 new yachts to market during COVID after losing its traditional sales platforms.
In an interview with EBM's Editor, Sunseeker International's Marketing Manager Bryan Jones explains how the company turned to the digital world and the lessons they learned.
SUNSEEKER INTERNATIONAL RECEIVED THE BEST USE OF INNOVATION IN CUSTOMER ENGAGEMENT AWARD. WHAT DOES WINNING THIS AWARD MEAN TO YOUR ORGANISATION?
We are thrilled to receive the 'Best Use of Innovation in Customer Engagement' award. For a small, relatively new marketing team, it was a great achievement and a testament to the power of digital, which we are embracing more than ever as an organisation. The marketing strategy was a first of its kind in the organisation, and we are proud to represent the marine sector in the awards that sought to recognise excellence from many multi-national organisations.
THE OUTBREAK OF THE PANDEMIC COINCIDED WITH SUNSEEKER'S PLANS TO RELEASE 5 NEW YACHTS TO MARKET. HOW DID YOU GO FORWARD WITH THIS DESPITE LOSING YOUR TRADITIONAL SALES PLATFORMS?
We shifted our focus to video content that was easily accessible via phone and email, offering a sales tool for distributors to engage with the customer and encourage them to explore the range of five new yachts. We needed to create something new and exciting that hadn't been seen before. Creating this content gave us a platform to promote the brand and product during a time when boat shows and events were limited. The YouTube Livestream element of the launch video allowed our distributors to host private 'screenings' with their clients, offering them an exclusive digital experience.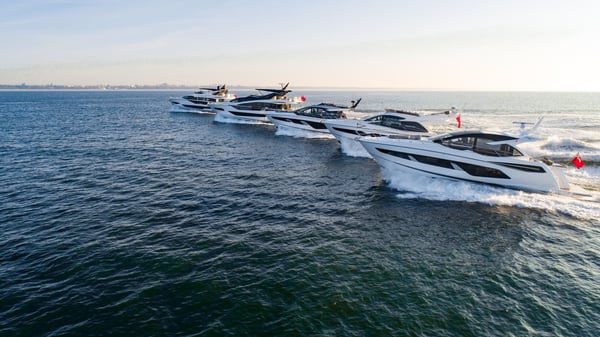 THE ENGAGE AWARDS FURTHER RECOGNISED SUNSEEKER INTERNATIONAL FOR BEING THE FIRST YACHT MANUFACTURER TO HAVE AN IN-HOUSE LUXURY EVENT SPACE. WHAT CAN YOU TELL OUR READERS ABOUT THE 'SUNSEEKER SHOWCASE'?
As Covid-19 restrictions began to ease, we were able to open an exclusive client showcase that enabled face-to-face interaction in a safe and private environment. The showcase was such a success that we have continued to use it as another customer touchpoint, and we are replicating the showcase concept in other key locations worldwide. The next showcase is due to arrive in Dubai this year.
IN YOUR AWARD ENTRY, YOU STATED THAT YOUR SALES INNOVATION HAS CHANGED THE WAY SUNSEEKER WILL MARKET AND SELL IN THE FUTURE. COULD YOU EXPAND ON THIS?
The shift from traditional to digital marketing is a permanent change and continues to be the focus for the organisation. Content creation continues as new products come to market, and now we seek to incorporate digital into everything we do, including at boat shows and events. We are already introducing the use of VR technology for concept launches and yachts in build, QR codes directing clients to e-brochures and re-targeting relevant and tailored video content across social media channels.
FINALLY, WHAT WERE THE KEY LESSONS YOU LEARNED WHILE TRYING TO TACKLE THE CHALLENGES PRESENTED BY COVID?
Flexibility is absolutely key, an organisation that has the ability to be adaptable during times of crisis will be able to react timely and efficiently.
Engage Business Media would like to congratulate Sunseeker International on their well-deserved win. We hope that their story will inspire other organisations to turn to the digital world and become more adaptable.
Those interested in sharing their success stories and entering the 2023 Engage Awards/Engage B2B Awards, can now submit their entries here.
The deadline for submissions is July 17th, with judging set to commence on July 24th.