Engage Awards: The 2022 Winners & Their Customer Engagement Strategies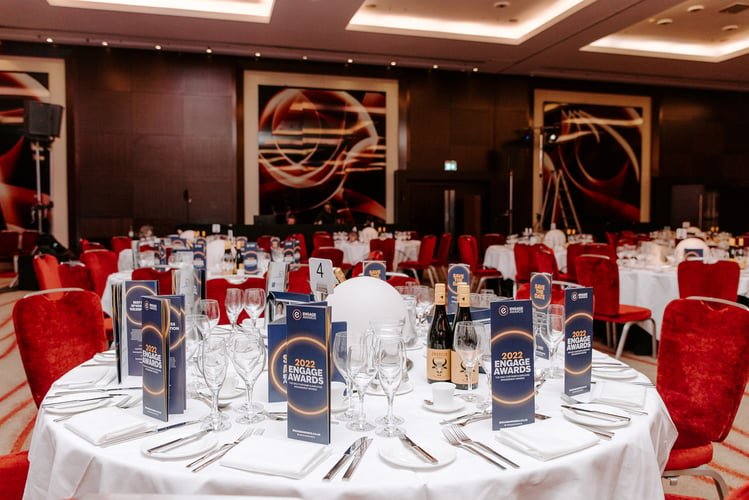 Earlier this month, Engage Business Media held the annual International Engage Awards at the Westminster Park Plaza in London. Celebrating 20 organisations for their customer and employee engagement strategies, this prestigious black-tie event is the only one of its kind. As such, it is not surprising that over 200 companies entered the 2022 awards with the hope of having their engagement efforts recognised.
After enjoying a three-course meal at the largest hotel events space in London, the event's 400 guests applauded as comedian host Jayde Adams announced this year's 20 award winners. Since the Engage Awards celebrate efforts in both customer and employee engagement, 10 of the 20 award winners received recognition specifically for their efforts to improve customer engagement. (Learn more about those awarded for employee engagement here.)
WHO ARE THE WINNERS AND WHAT ARE THEIR STRATEGIES?
1. Best Use of Technology in Customer Engagement – Coutts
The private bank and wealth manager Coutts earned an award for reimagining client engagement in the digital world. Looking to find another channel to connect with clients, Coutts launched 440: an invite-only social networking app.
A first-of-its-kind in UK banking, the exclusive 440 app allows members to create profiles, join groups with common interests, access an exclusive event calendar, and send messages to other members. It is important to note that this community app is separate from Coutts' banking app and does not have a banking product. As such, its main purpose is to provide clients with a digital space where they can network easily, safely, and privately.
2. Best Customer Service Team – Naked Wines
Naked Wines was presented with this award for its outstanding Customer Happiness Team (CHT) and its "conversations not transactions" approach. One of the CHT's most notable initiatives is 'Project Giraffe'. As part of this project, Naked Wines allows team members to spend a small portion of its budget to establish connections with customers. Taking a case in point, one of Naked Wines' customers shared how they received a call during a difficult time:
"My partner passed away and I got a call from [the CHT] while I was driving a couple of days after they passed. I said to the caller that he would have to be quiet for a bit as I wanted to hear the engine of the Aston Martin as it pulled away. Needless to say, he agreed and there was silence on the line for 20 seconds […] A couple of days later, I received a pale blue convertible Aston Martin replica in the post with a wonderful note."
3. Best Use of Innovation in Customer Engagement – Sunseeker International
The luxury motor yacht manufacturer Sunseeker International has received recognition for launching 5 new luxury yachts to market despite the challenges presented by COVID. Instead of postponing or cancelling the launch of the "Sunseeker Famous Five", the company turned to the digital world; that is, it held a virtual event and live-streamed it to customers, dealers, and the world's media via YouTube and Facebook.
When asked why they believe they deserved the award, the company shared that their sales innovation not only generated millions of pounds during a difficult time but that it has also changed the way they will engage with customers and market products in the future.
4. Best Use of Customer Insight – Bupa UK Insurance
Bupa, one of the UK's leading health insurance providers, was awarded for its use of a world-class insight platform that provides staff with over 38,000 pieces of customer feedback. In addition to this, Bupa also collects data through its Customer Listening App, which presents employees with audio and video feedback from customers.
The company then tasks employees with analysing the data to identify the key issues and pain points. What is more, it organises campaigns to reward those who come up with the best solutions and improvement ideas.
5. Best Customer Centric Strategy – Remitly
The online remittance service company Remitly earned an award for being a customer-led brand in an industry in which it is difficult to build strong customer trust.
Remitly's CEO, Matt Oppenheimer, came up with the idea for the company after working in Kenya and seeing how challenging it was for his friends to transfer money to and from family abroad. Subsequently, he set about to transform the remittance space and facilitate the transfer of money, knowing that it is used to help provide basic necessities.
Being mobile-centric, the company has a global network, with 22 sending/originating countries and over 145 receiving/destination countries. Ensuring that Remitly puts customers at the heart of its strategy, the company provides customer support in more than 14 languages. Commenting on this in their award entry, Remitly shared: "Remittances are global, but customers are local."
6. Best Use of Voice of the Customer – Tata Communications
The telecommunications company Tata Communications was presented with an award in this category for developing a robust Voice of the Customer (VoC) framework. Under this framework, the company uses numerous surveys to collect feedback, after which it analyses it across different segments and industry verticals. Following this, it receives insights on actions to take to improve each of the segments.
Breaking down its strategy, Tata Communications revealed that the foundation of its VoC framework lies in its 'Listen, Identify, and Measure' process. Put differently, the company listens to its customers, identifies their priorities to improve its services, and then measures customer satisfaction.
7. Best Customer and Employee Engagement Programme – NatWest
NatWest received this prestigious award for its efforts to resource 25% of its 2021 hires from socially disadvantaged and underrepresented backgrounds. In their award entry, the commercial bank explained that the aim behind this action was to better represent the communities they serve.
Thus, with this objective in mind, NatWest launched the Social Mobility Apprenticeship Programme. Thanks to its implementation, the bank is helping 150 young people secure a career and receive a Level 2 qualification in Financial Services
8. Best Customer Contact Strategy – Newcastle Building Society
The Newcastle Building Society was recognised for taking action to improve its online presence after customer feedback suggested that its website experience needed upgrading. More specifically, customers often criticised the website for being difficult to navigate and not complementing the Newcastle Building Society's brand experience.
As such, the company invited society members from its Connected Communities portal to take part in user experience tests to identify gaps and highlight potential improvements. What is more, it also gave customers access to the new website before launching it with the aim of receiving feedback and ensuring continuous improvement.
9. Best Business Transformation Strategy – Sky
Sky was presented with the Best Business Transformation Strategy award for transforming its retail operations from transactional to experiential. In other words, the organisation launched a Retail Transformation Plan which upgraded its existing hubs and created new opportunities for customers.
In addition to this, Sky embarked on its "biggest ever investment in people"; that is, it introduced a new advisor leadership programme, created new training opportunities, and established a new pay and reward scheme.
10. Best Use of Knowledge Sharing – IBM Consulting
IBM Consulting received an award for its knowledge management strategy after undergoing a significant business transformation. According to its award entry, the corporation has simplified its knowledge-sharing landscape using a dedicated Content+ programme and a custom-built content management platform called "Lighthouse".
Taking this further, the corporation makes use of investigative journalism and storytelling techniques to share the stories of its largest and most strategic client projects. In this way, it enables its teams to replicate their successes.
We would like to congratulate this year's Engage Awards winners for their innovation and excellence in customer and employee engagement.
Next year, the black-tie event will take place at The Brewery in London on November 28th.
Entries for the 2023 Engage Awards will open in January