Jo Causon: Service Will Be the Key Competitive Battleground for Organisations Going Forward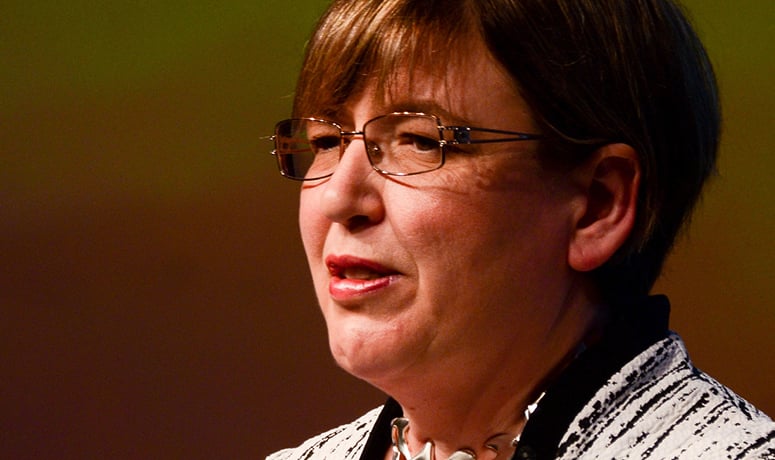 An interview with the CEO of The Institute of Customer Service (ICS)
What do UK customers think about service in 2023? What is the cost of poor customer service? And what can organisations do to support their frontline agents?
These are just a few of the questions we asked Jo Causon, CEO of the ICS. Read the interview below to find out what she had to say about the findings of the most recent UK Customer Satisfaction Index and how employers can embed a customer-led culture.
HI JO, PLEASE INTRODUCE YOURSELF AND YOUR ROLE.
I am CEO of The Institute of Customer Service. Our mission is to promote the importance of customer service as a key strategic priority for organisations and a driver of business success. We aim to help organisations raise their service levels for the benefit of customers and businesses alike.
WHAT CAN YOU TELL US ABOUT THE FINDINGS OF YOUR MOST RECENT UK CUSTOMER SATISFACTION INDEX?
The UK Customer Satisfaction Index has been running for 14 years, measuring levels of satisfaction across 13 business sectors. It is a truly comprehensive barometer, taking in around 50,000 customer responses every year. Unfortunately, the latest results (published in July 2023) don't make good reading: satisfaction fell to its lowest level since 2015. Satisfaction dropped across each sector in the biggest annual fall we've recorded since the series began. Customer dissatisfaction with complaint handling was one of the challenges but we also saw declines in ethics, emotional connection, customer ethos and the overall experience.
WHAT IS THE COST OF POOR CUSTOMER SERVICE IN THE UK TODAY?
We estimate that poor service costs over £9bn every month in lost employee productivity through time spent trying to rectify the situation when things have gone wrong. Service staff are currently spending around 20% of their time dealing with complaints and trying to put problems right. £9bn is an eye-watering amount – just think of the boost that could be unlocked for the economy if it was turned around!
HOW WOULD YOU DESCRIBE THE RELATIONSHIP BETWEEN EMPLOYEE ENGAGEMENT AND CUSTOMER SATISFACTION?
There is a clear and direct correlation between the two. When employees are engaged, they are more motivated and show higher levels of discretionary effort to serve customers. They will 'go the extra mile' to deliver the service customers deserve. At the same time, when customers are more satisfied, they will be more loyal and appreciative which encourages and motivates employees. It's a virtuous circle that drives overall performance in a positive way.
WHAT CAN BUSINESSES DO TO SUPPORT FRONTLINE AGENTS ON THE VERGE OF BURNOUT IN 2023?
That's an important question because there's no doubt that the pressure on frontline staff is increasing. Businesses need to ensure that staff have the support and help they need. That's about line managers regularly checking in with their team and making time for one-to-ones and personalised discussions. It's also about ensuring proper training and development programmes are in place and treating customer service as a profession with visible career paths for individuals to follow. In addition, it's vital that employees feel they have a genuine voice and that any concerns, issues, or observations they have are heard and listened to. Encouraging genuine ownership and empowerment makes a big difference to how engaged anyone feels and we need to really lead on this if we want to attract and retain employees.
FINALLY, WHAT ADVICE WOULD YOU GIVE TO EMPLOYERS SEEKING TO EMBED A CUSTOMER-LED CULTURE?
It starts – and must be led – from the top. Both the executive and the board need to understand the strategic importance of the service agenda and see it as a key driver of business performance – whatever the sector. To create a customer-led culture you need to actively listen to and engage with customers and employees – and act on the feedback they give you; you need to map and fully understand the customer journey along every point; you need to measure your performance against key service KPIs inside and outside of sector and base an element of people's reward around that performance too; you need to create clear career pathways for service staff so that they're engaged; and customer service must be a regular item for discussion and decision-making at boardroom and operational level.
I would encourage all NEDs to spend time at all parts of the customer journey from the front line to the risk compliance team. Service will be the key competitive battleground for all organisations going forward. If I have less monies, I will make different decisions and we have plenty of evidence that service will matter even more as a key business differentiator.
Interested in learning what other CX leaders think? Read more interviews here.