Aleksandra Pilniak: Great CX Requires Greater Employee Experience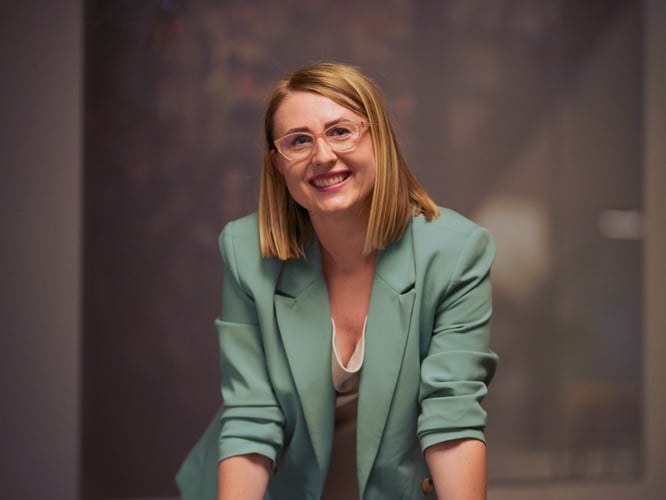 An interview with Kramp's Customer-Centric Culture Manager
Aleksandra Pilniak is a Customer-Centric Culture Manager who is enthusiastic and intrinsically driven to create long-lasting and memorable experiences. What is more, she is the author of Why Your Customer Experience Program Will Fail… And 7 Proven Ways to Avoid It. To understand why 93% of all CX programs fail and what organisations can do to make sure they succeed, we reached out to Aleksandra for an interview. Read her thoughts and her advice for creating a customer-centric culture below.
HI ALEKSANDRA, PLEASE INTRODUCE YOURSELF AND YOUR WORK.
My name is Aleksandra Pilniak, I grew up in Poland, studied in Italy and now live in The Netherlands. These international experiences made me passionate about cultural differences and about connecting people. My mission is to help customers and employees better understand each other and create an environment where they can thrive. I have extensive experience in project management, learning and development, and customer experience.
Since 2018, I have been responsible for the customer-centric culture at Kramp – an international spare parts reseller in the agricultural industry. At Kramp, I manage a vibrant community of 250 Customer Experience Ambassadors from 24 countries, supporting them in spreading the customer-centric mindset in the organisation.
I am also a certified Hofstede's Practitioner in Organisational Culture, which allows me to help organisations assess their internal company culture and ensure it fits their strategy. As of January this year, I am a published author of a book about building successful CX Programs, in which I share my learnings and mistakes from the CX field collected throughout my entire career.
IN YOUR BOOK, YOU SHARE THAT 93% OF ALL CX PROGRAMS FAIL. WHY IS THIS PERCENTAGE SO HIGH?
For many people Customer Experience can be very functional and hands-on – it's about measurements, customer journeys, data analysis, personas, etc. Of course, these elements are very important and are the right tools within the CX toolbox. What many organisations often disregard or diminish the importance of, in my opinion, is that Customer Experience is first and foremost about people.
We are talking here about a transformation of mindset and behaviours, about changing the organisational culture and how people behave when no one is looking. In many organisations, the company culture is often seen as a rather soft, fuzzy, and intangible aspect which is difficult to measure. This is far from the truth as nowadays there are ways to measure it accurately. But if you do not know them, the change management in this area can be a huge struggle and from my experience, that is most often a point of failure while building CX Programs.
If your employees fail to truly understand what customer centricity means and adapt their mindset, if your leaders are not sharing stories of customers, walking the talk and recognising customer-centric behaviours, if your C-Suite does not act as role models for customer centricity, your CX Program will be very much limited to projects and KPIs. Change management is a very complex and challenging topic, but I personally enjoy it the most as I find empowering others extremely rewarding and fulfilling.
EXPANDING ON THE PREVIOUS QUESTION, WHAT CAN ORGANISATIONS DO TO MAKE SURE THEY ARE IN THE 7% THAT SUCCEED?
As mentioned previously, I would advise starting with understanding their organisation culture to ensure it won't eat their CX Strategy for breakfast. Or lunch. Or dinner. Secondly, I would team up with the HR department to work together on employee engagement. It has been proven by research repeatedly that happy employees make happy customers (and happy stakeholders). Organisations which do well when it comes to Employee Experience have more than 4x profit and 2x the average revenue.
Another valuable piece of advice, based on my experience, is to make clear choices in your CX strategy – oftentimes, CX Professionals are so eager and driven to do things, they want it all. Sadly, such an approach can be really overwhelming and slow your progress significantly. Me and my co-author Friederike have learned that when you fully focus your energy on one or two main areas, you will get much further.
An essential success factor is also having an executive-level sponsor for your CX Program and leadership commitment. Leadership can make or break your CX Program, therefore having a committed sponsor and management will give you visibility and will help you to create urgency in the organization. There are many creative ways in which you can involve the leadership – for instance using customer panels during leadership events, encouraging them to make vlogs when they visit customers, and putting them and their teams in the spotlight to appreciate their customer-centric behaviours.
One more piece of advice will be to not wait with CX activities until you have all the resources, or the systems are in place. Instead, start experimenting immediately and learning in your own context what is working and what is not. Such know-how is priceless and will give you immediate insights to progress faster and to be more successful even if you fail the first time.
HOW WOULD YOU DESCRIBE THE RELATIONSHIP BETWEEN EMPLOYEE ENGAGEMENT AND CUSTOMER EXPERIENCE?
I wholeheartedly believe that your Customer Experience can only be great if your Employee Experience is greater. Engaged employees are the driving force of a customer-centric culture and they are the ones creating outstanding experiences for your customers. Companies which fail to take care of the wellbeing and welfare of their employees are seeing immediate negative consequences on customer satisfaction. Disengaged and unhappy employees disengage customers because they do not solve customer problems, they do not go the extra mile and they create a negative word of mouth. This obviously affects the bottom line and financial results of the organisation. It's not an accident that the best places to work are also the places that make the most money. I believe that companies that invest in both CX and EX outperform those that only focus on customer experience in isolation.
FINALLY, HOW DO YOU ENVISION THE FUTURE OF CX, CONSIDERING THE RISE OF AI?
Artificial Intelligence has already become a part of our daily lives, regardless if we like it or not. It can undoubtedly be a valuable tool when used with the right intent and with a specific goal in mind, but I do not believe and definitely do not hope that it will replace real human interactions.
As a species, we are longing for personal contact, for a human touch, we want to stay connected because it is enriching and meaningful, it makes us feel like we belong, and we are part of a larger community. I share the view of Steven van Belleghem, the CX Futurist, who very recently said that even if human interactions in the AI era will become scarcer, they will significantly gain in value. That is why customer experience will remain the most significant business differentiator, and customer-centric organisations will have a solid competitive advantage in the next decade.