Anne Gray: "Customer Centricity Is the Gold Standard Everyone Is Chasing"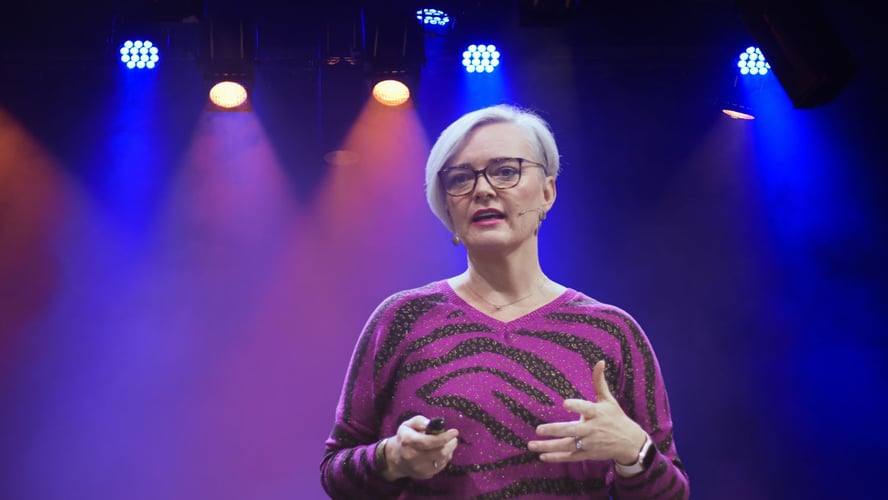 An interview with the Founder and CEO of Solutioneers
What are the biggest mistakes organisations are making in 2023? What can they do to become truly customer centric? And what are the key trends impacting the CX landscape today?
To answer these questions, we reached out to the Founder and CEO of Solutioneers, Anne Gray. In an interview, she shared a little bit about herself and her boutique consulting firm. More importantly, she revealed what she thinks businesses can do to enhance customer engagement and what the future of CX looks like.
HI ANNE, PLEASE INTRODUCE YOURSELF AND YOUR ROLE.
I am the Founder of Solutioneers, a boutique consulting firm that works with customer-obsessed courageous decision-makers who want to lead customer-centric businesses.
I worked for over 15 years in Telecoms, starting the Managed Services division and developing consulting methodologies. When the company decided to diversify in 2018, we became more focused on the technologies that rely on the backbone of telecommunications, such as OmniChannel Contact Centre, Internet of Things solutions and Robotics Process Automation (RPA).
Eventually, we did a lot of consulting in the digital transformation space. The most interesting projects for me were the ones where the digital transformation touches the customer or is done for the customer's benefit. That's where Solutioneers started.
We look at strategy, culture and digital transformation, automation and digitisation, making sure that the business sees the impact through the lens of the customer.
WHAT DO YOU SEE AS THE KEY TRENDS IMPACTING CX IN 2023?
Obviously, AI is the easy answer. But I want to focus on what it is that AI will deliver to customer experience:
AI will give us the ability to be much more responsive; it will result in high availability to deal with customer queries and administration and enable more self-help capabilities. It will help in getting queries addressed quickly and accurately; therefore, the automation that can be harnessed through this is a game changer for organisations needing to optimise for efficiency.
I think we are going to need to address the anti-trust that is going to emerge in our customer bases around the use of AI. A few ways to do this would be by giving people the option, using disclosures, and being fanatical about ensuring compliance.
We need to make sure that we teach the AI the very best principles of CX practice so that we create trustworthy reliable bots. We need to make sure that we do not deploy it too early, without significant and rigorous testing of the effects it may have on our customer experience, particularly in regards to building or eroding trust with our customers.
I'm seeing this as a major trend and one of the keys to unlocking customer centricity. Brands that want to play in the premium space have to offer this to their customers. Brands that want to build an ecosystem around the customers' market space will have to offer this to become indispensable to their customers. It's a means of differentiation that surpasses price and service and allows us to connect with the customer on a personal, dare I say, emotional level.
IN YOUR OPINION, WHAT ARE THE BIGGEST MISTAKES ORGANISATIONS ARE MAKING WHEN IT COMES TO THEIR CUSTOMER ENGAGEMENT STRATEGIES?
Calling skills like empathy and emotional intelligence "SOFT" has devalued them in the eyes of executives and made them less important, when these skills may be harder to master than calculating liquidity ratios for some. Some of the biggest mistakes include not doing the hard work with these relational skills, not investing time in people or leaving silos in place.
I think a multi-skilled agent is much more valuable, and probably more engaged and productive than a single-skilled agent. Giving people the opportunity to grow and cross-skill makes them feel like valuable contributors. People want to come to work to contribute, and they need to be engaged to do that. They need to feel like what they do matters, and that they can move the needle, no matter how big the machine is.
When we don't prioritise these essential workplace skills, at every level, what we end up with is multiple disengaged people in the customer experience, potential miscommunications, and a disjointed, even random experience for the customer.
WHAT ADVICE WOULD YOU GIVE TO BUSINESSES THAT SEEK TO BECOME MORE CUSTOMER CENTRIC?
Customer centricity is the gold standard everyone is chasing.
However, there is a lot of old legacy thinking and traditional ways of doing things that organisations would need to be willing to give up; they would need to embrace change in order to become truly customer centric.
Firstly, they'd need to give up the old way of thinking about products and replace that with thinking about customer ecosystems and partner collaborations. It will be out with old metrics for measuring success like the Number of Units Sold, and they will need to change to new units such as Customer Lifetime Value (CLV). Customer-centric companies need to demonstrate that they care deeply about what their customers care about in society, the environment, social justice, and peace. It will all start with customer-centric culture change, touching every person in the organisation.
Customer centricity is an organisational strategy. Legacy organisations will truly need to disrupt themselves to get this right, and not everyone is brave enough to take that type of transformation on. You would need to be a customer-obsessed courageous decision-maker…
FINALLY, HOW DO YOU ENVISION THE FUTURE OF CX, CONSIDERING THE RISE OF NEW TECHNOLOGIES?
We are living in an age where there is always a hype cycle of emerging technologies surpassing expectations and changing the game.
When thinking about what to do next, CX needs to remain on the other side of the strategy coin.
Heads – Revenue growth, sustainability and efficiency being what drive so many decisions in the boardroom.
Tails – The customer's expectation of how needs should be met based on their experience throughout the customer journey.
Implementing new technologies that will drive efficiencies and improve sustainability is inevitable, but the customer has to be the number one consideration when you make changes in business – because without a customer what have you got?
There will be companies that execute quickly to take first mover advantage, especially those who are agile and comfortable with fast-paced change, or those with deep pockets and large skilled teams who have the resources to implement quickly. I am waiting to see what the likes of Amazon, Discovery and Netflix do. Their learnings will inform many of those who won't have deep pockets in terms of what works. The early adopters should learn from the first movers. However, there will always be laggards, those who don't change their approach, and history shows us that they will not be as successful as those who disrupt themselves.
The trick is to remember to play both sides of the coin, in a time when the tech is shiny and new, don't forget that there is a customer who is experiencing you through the lens of their context and lived experience.
Want to find out what other industry leaders had to say? Read all interviews here.