Anthony Cass: "In the Push to Digitise, Do Not Forget That Customers Need Assisted Support"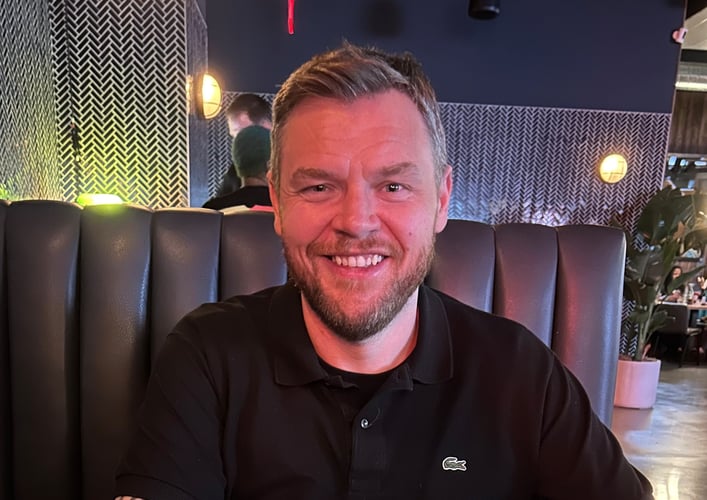 An interview with Virgin Media O2's Director of Sales, Retention & Retail Stores
CX is rapidly evolving – and it will continue doing so. To get a better idea of how CX is changing in the telecommunications industry, we reached out to Anthony Cass, Director of Sales, Retention and Retail Stores at Virgin Media O2. With over 2 decades of experience in the industry, Anthony shared how he has seen CX transform and what he believes is in store for its future.
HI ANTHONY, PLEASE INTRODUCE YOURSELF AND YOUR ROLE.
Hi, my name is Anthony Cass. I'm 41 years old and have worked in the telecommunications industry with Virgin Media O2 for 22 years. In this time, I have had 17 different roles, very much epitomising a 'squiggly career'!
My latest role is to lead the offline sales, retention and retail operations which compromises a diverse contact centre, high street, and door-to-door sales presence of over 6k employees across the U.K., India and the Philippines. I'm currently on gardening leave and will be starting a new role with BT EE in October as Director of Sales Contact Centres, a role I'm extremely excited to start with a business who are transforming customer experience and their whole brand!
HOW DO YOU ALIGN CUSTOMER RETENTION AND SALES?
My very first role, as a 19-year-old fresh from college, was as a retentions agent and I've spent most of my career in and around retentions and then sales. I've always seen retentions as a re-selling skill so I believe the two operations, and the experience they offer customers, are uniquely and closely aligned.
The best experience we can offer our customers in either operation is a simple, personalised, quick, and empathetic service experience where customers and prospects do not feel 'sold to' but informed and valued to make a decision and be assisted in that decision. Through effective cross-skilling, employees distinctly placed in either sales or retention can be fluid and move to different campaigns to support seasonal spikes or fluctuations in demand. This not only assists the business in potential cost saving but also the employee experience through a more diverse role.
YOU HAVE WORKED IN CUSTOMER EXPERIENCE FOR OVER 2 DECADES. HOW HAVE YOU SEEN THE CX INDUSTRY TRANSFORM OVER THESE YEARS?
It's been fascinating to work in and help develop, a much-changed landscape of experience. Within the Telecomms industry, I think CX has been slower to transform and adapt to customers' needs than in some other industries, say banking for example which moved rapidly to digital, app and self-serve.
My industry has definitely developed, but the primary focus has always been on innovating the network and the products it offers. As technology innovation has slowed in the past 3 years with Broadband speeds plateauing and mobile device swap periods becoming longer, the need to rapidly develop more digital capability and truly focus on some of the basics like first-time resolution in assisted channels, as well as personalised experiences, has become critical.
I believe the sourcing model of the contact centre estate has also developed and fluctuated. In the period from the early 2000s up to the mid-2010s, there was a rapid shift to lower cost sourcing models in most of the industry including offshoring/near-shoring. I believe as competition has intensified and CX has become more of an essential differentiator, coupled with the COVID pandemic and the need for more resilience, the industry has in part pivoted to both more onshore presence but also an acceleration of self-serve technology.
EXPANDING ON THE PREVIOUS QUESTION, HOW DO YOU ENVISION ITS FUTURE, CONSIDERING THE RAPID ADVANCEMENTS IN TECHNOLOGY?
I believe there will be a race to enhance digital capabilities even more, especially with proactive and predictive care and retention. Part of the reason this has been traditionally slow in the past is the legacy technology stacks that a lot of businesses sit on the prohibitive cost of replacing and/or upgrading them, making integration with new technologies difficult. Due to the aforementioned slowdown in innovation that customers may see value in, it feels like there will be a more rapid evolution of technology back ends in particular to allow more advanced digital capabilities. This will include more intelligent 'chat bots' fuelled by systems such as Chat GPT and other associated technologies. As companies harness more and more data on customers and build the capability to understand this and build prediction models, proactive care, especially renewal, upgrading and retention will become a key new battleground. I believe the assisted channels will remain but will become more skilled as simple queries and transactions are self-served. I believe this will lead to what feels like a much better and more personalised experience for customers.
FINALLY, WHAT ADVICE WOULD YOU GIVE TO OTHER BUSINESSES SEEKING TO ENHANCE THEIR CX AND RETAIN CUSTOMERS IN 2023?
I'd have two main pieces of advice, that I myself will also be following: Firstly, ensure you focus on the employee experience of your teams. Many roles will feel at risk as digital capabilities are developed, and retaining your talent to support CX will be key, including training and up-skilling. Secondly, in the push to digitise, we should not forget that customers want and need assisted support. We need to ensure digital adoption is kindly pushed to customers and offers discernible benefits, but that when needed, assisted support is easily accessible and offers a personalised service that digital channels may not yet be capable of.
Interested in what other CX experts have to say? Read all our interviews here.