Customer Engagement Transformation Conference: 3 Important Takeaways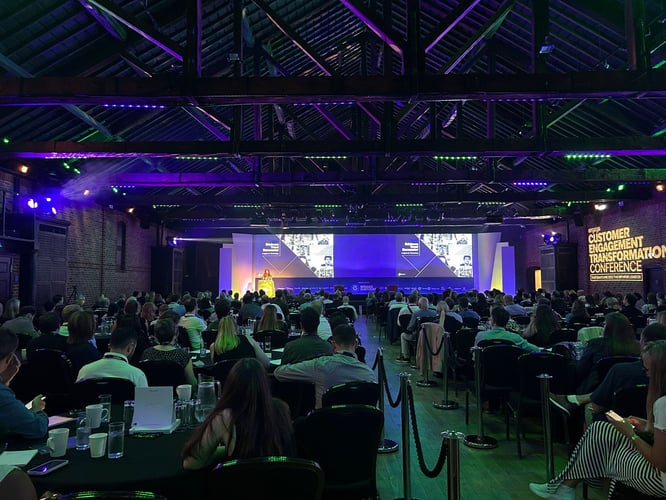 The 2023 Customer Engagement Transformation Conference took place on the 14th of June – and it was even better than we imagined it would be! With over 500 people coming together to learn from experts in the CX industry, The Brewery on Chiswell Street was bustling with noise and excitement. Everywhere you looked, you could see attendees and speakers engaging in discussions, debating the current CX landscape and how to navigate it.
Our speakers featured experienced and influential individuals representing world-renowned organisations including Jaguar Land Rover, Financial Times, J.P. Morgan, NatWest, Evri, Sky, Virgin Red, Beauty Pie, Edelman, Meta, Mindful Chef, Bupa, VodafoneZiggo, and others.
As Engage Customer's Editor, I had the pleasure of sitting in on the event's sessions, observing the way the audience engaged with the speakers, and taking in the key lessons from the day. Although I will soon publish a longer post-event article detailing my favourite sessions, I wanted to first share what I consider to be the key takeaways from this year's conference.
Companies need to work on building trust.
Due to the rapid advancements in technology and the rise of Artificial Intelligence, people are becoming more and more concerned about the safety of their data and privacy. Moreover, they lack faith in the abilities organisations have to regulate new technologies, they fear misinformation and deepfakes, and they worry about losing their jobs to AI.
Event chair Martin Hill-Wilson commented on this lack of trust, noting: "There is a big gap of not knowing, which we have filled with fear and trepidation."
It is time to focus on creating exceptional, personalised experiences.
Having a good product or service is no longer enough; to stand out from the competition, you need to create unique experiences which are personalised and tailored to each customer. Considering that 88% of consumers see experience as important as the product or service, it is not surprising that this point was reiterated time and time again by different speakers throughout the day.
You want customers to be loyal to you – but are you loyal to them?
Sky's Head of Digital: CX and Tech Futures, Jason Fiddes, defined loyalty at the beginning of his presentation, sharing: "Loyalty is about being in a mutually beneficial committed relationship."
This definition of loyalty has stuck with me since. The key word in this statement is mutually, and it underlines the importance of being loyal to your customers (not just demanding that they are loyal to you). To have a strong relationship with your customers, you need to be loyal and able to communicate effectively – just like you would in any other relationship.
Over the coming days, we will be delving deeper into individual sessions from the day, interviewing speakers, and publishing recordings from some of their presentations.