the FSCS Customer Experience Transformation journey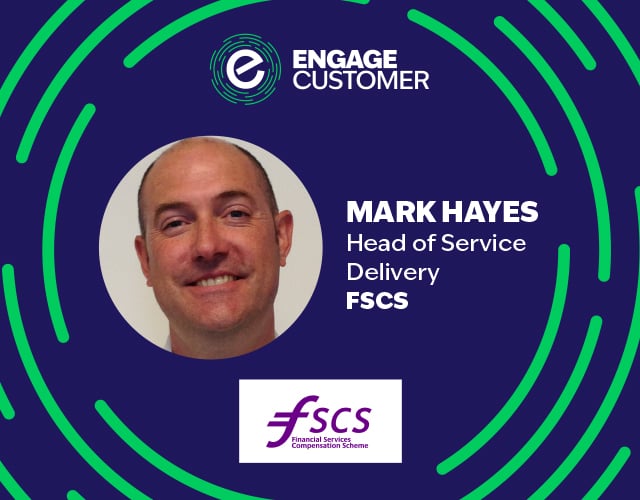 Delivering a positive customer experience is at the heart of what we do at the Financial Services Compensation Scheme – but that hasn't always been the case. This is the story of the journey we've been on to make customer experience our focus.
By Mark Hayes, Head of Service Delivery at FSCS
For those who don't know, FSCS protects customers when financial firms fail. Set up by government in 2001, we're independent of the financial services industry and unique globally for the wide range of financial products and advice we protect – including deposits, pensions, investments, insurance, and more.
Our mission is to provide a trusted compensation service for customers when their provider fails, which in turn helps to raise public confidence in the financial services industry.
FSCS is funded by a levy paid by regulated financial services firms, so our service is free to customers – and they keep 100% of any compensation when claiming with FSCS directly.
Moving from 'claimant' to 'customer'
It's fair to say FSCS has been on quite a journey since 2015, when we started to explore how we could better serve our customers. To prepare for our third decade as a scheme, we needed to transform our systems, processes, and our people.
It might sound simple, but this transformation began by changing the language we use. Pre-2015, anyone who came to FSCS with a claim was referred to as a 'claimant', but this term can often come with negative connotations and didn't drive our people to deliver excellence for those that use our services.
Everyone is a 'customer' in some way or other. We needed to ensure our service was customer-focused rather than claim-focused – so referring to them as such in all that we do was the perfect place to start.
We implemented this language change across the business. To make sure we all think customer, we changed our internal structure and launched a new strategy with three core segments: Customer, Stakeholder (the firms that pay our levy) and People (our staff). And we even changed the names and scopes of our roles – for example, the traditional 'Chief Operating Officer' title became 'Chief Customer Officer' and remains so today.
The most important impact of this language change and restructure is that it began to embed a collective accountability for customer experience across the organisation.
Identifying and delivering an outstanding service
Language and mindset alone wasn't going to be the sole solution. We needed to understand what our customers think at each step of the journey in order to improve our service where it matters most.
So, we started to measure customer satisfaction to gauge how customers feel at different stages of the journey, and we now use this survey and the feedback it provides as a key source to help identify improvements needed to the service.
This has led to a number of initiatives to improve our service; whether that's simplifying our evidence gathering methods by asking for key information directly from firms rather than the customer; or making it easier to complete our application forms.
We also now conduct 'touchpoint calls', reaching out to customers at the key moments of their journey (e.g. when we first receive a claim, and when we are about to make a decision). These extra steps allow us to be sure the customer completely understands what is happening with their claim and offers them opportunities to ask any questions they have with a real person on the phone.
The goal across all these initiatives is to make our services easier for customers to use. These changes have driven significant improvements to our customer satisfaction scores. We are currently achieving 85%, and have achieved a record high of 89% twice in the past year.
We've come a long way, but there is still more to do.
We're currently seeing a vast increase in the complexity of the claims we receive and the financial decisions our customers are making – so we've recently started a major three year transformation project focused on evolving our service with these factors in mind.
Removing harm from the marketplace
Another element we are keen to improve on is helping to prevent further harm occurring to our customers. A few years ago, we identified potential harm around what we call 'phoenixing'. This is when a person caused or was in some way liable for the claim that comes to FSCS, who then opens a claims management company to bring claims to FSCS for the scenario they contributed to, in turn getting paid for the work on that claim by the affected customer.
We started to investigate this further and within a few months we began sharing our findings with the FCA, who now regulate the CMC market. Since 2019 we have reviewed thousands of individuals and shared our findings on over 300 people of interest, contributing to dozens of variations in permissions. Better yet, the FCA has now banned this practise, which is a great win for our customers.
Raising awareness of our service
On the topic of claims representatives, currently only roughly 1 in 4 customers come direct to FSCS. Customers who claim direct receive 100% of any compensation due, whilst representatives will charge a fee, usually on a no-win-no-fee basis.
Of course there are some reps that do a great job for their customers, but it's really important that customers understand their options. Recent analysis showed that only 41% of rep customers were aware they could come to us direct, and only 44% knew we are a free service. This means those customers weren't in a position to make a fully informed decision on whether to come direct or not.
This really highlights the need for us to raise awareness of who we are and what we do so more customers understand that they have choice. FSCS is on a range of socials, including Facebook, Twitter and LinkedIn – and at the end of last year, we launched a new Instagram account focused on financial education of younger consumers.
We have also recently started a TV and radio marketing campaign. This is aimed at 40+ male customers in the Midlands and North of England, as these are the areas and types of customers where we see the highest volumes of claims. If you live in either of those areas, do keep an eye out for our ads!
Lastly, we also have our 'Protect your money with FSCS' podcast. Each episode focuses on a different topic – money and mental health, scams, cryptocurrency. This is a really different comms channel for us but has been a real success so far.
Looking to the future
We've done a lot over the past seven years to improve our service for customers, enhance protection we can offer, and raise awareness of our services – but there is always more we can be doing. My ultimate goal is to improve the industry so much that FSCS is no longer needed – it might be a long way off, but it's something to strive for!