Executive Discussion: CX, AI, Innovation, and BPO in Retail's Future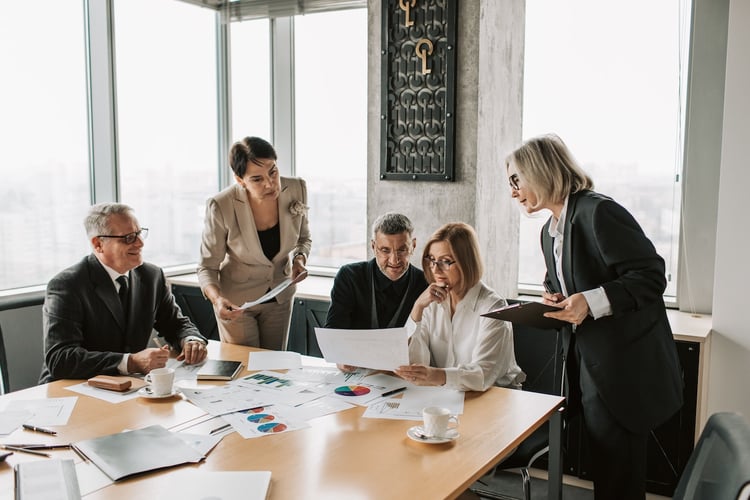 By Rod Jones, CX industry specialist
Take a carefully selected group of top-level executives invited from the ranks of major UK retailers and luxury brands and gather them around a breakfast table in a truly unique venue in the very heart of Westminster. Now, task this highly experienced group of professionals to openly discuss the big issues their respective businesses and the industry face as the busy season approaches. A lively and robust discussion ensues. Prompted with additional insights from experts in the fields of CX, technologies and BPO, the conversation drifted through key issues from how to improve customer experiences to the role of self-service, chatbots, various forms of AI, and the noted recent upturn in voice calls to retail-support call centres and contact centres.
STAFFING SHORTAGES
One pressing issue that consistently emerged in these discussions was the challenge of staffing shortages, particularly acute in customer service contact centres. Historically, this seasonal reality has frequently led to significant aberrations in customer experience delivery as customer interaction volumes soar during the high season, exacerbating significant understaffing realities.
It has become apparent that many customers, already stressed by economic realities, find themselves increasingly frustrated when attempting to resolve many typical practical challenges or problems when engaging with their providers. On the other hand, contact centre agents, often overwhelmed by the sheer volume of interactions, need help to maintain expected high service standards.
For any CX contact centre aiming to provide high-quality voice and digital customer interactions, it's crucial to have operations adequately staffed by an appropriately trained and motivated workforce. Having too few agents to maintain defined service levels and other critical KPIs, leads to a cascade of other problems, such as inordinately long wait times, a significant dip in first-contact resolution rates and plummeting customer satisfaction and loyalty stats.
Contact centre staffing becomes a major problem, particularly during retailers' peak seasons when the need for agents significantly increases, but often only for a short period of six to eight weeks. The time-consuming and complex nature of hiring and training new contact centre staff becomes even more critical for maintaining service quality.
CHATBOTS VS. EMPATHETIC AGENTS
Another hot topic discussed in this forum was the role of technology in addressing some of these operational challenges. While AI and chatbots may well offer promising solutions, they come with their own set of problems. At this stage, automated systems may not be sophisticated enough to handle all the complex or emotionally charged issues. This tends to lead to significant customer dissatisfaction. Also, heightened customer expectations add another layer of complexity to the customer service landscape.
When faced with a problem or query, the contact centre is the first point of contact for most customers. They bear the brunt of the high-season customer interaction surges. Staffing shortages will cause inordinately long wait times for calls to be answered or digital interactions to be responded to, negatively affect the overall customer experience, and cause customer satisfaction scores to plummet. The situation worsens when systems crash or slow down due to outdated technology, leading over-worked agents to focus more on firefighting rather than providing quality service.
In mature consumer markets like the UK, North America, and Europe, digital interactions have steadily grown over the past decade, with some query types now seeing considerably more than 50% digital engagements, as opposed to voice. However, an intriguing countertrend is emerging: a resurgence in voice calls. This is particularly noticeable during high-stress periods such as the peak shopping season and is further exacerbated by economic downturns and stress-related consumer realities like the rising cost of living.
Some CX analysts have suggested that in times of economic hardship, many consumers find themselves in an 'Urgent-Important-Emotional' frame of mind, a complex psychological state marketers often underestimate. Neglecting this reality can lead to a decline in customer sentiment, brand loyalty erosion, and revenue loss. Customers are less inclined to interact with automated bots in stressful or urgent situations and will prefer to seek immediate, effective resolutions from live agents. Voice calls offer a level of emotional nuance and immediate feedback that digital channels often lack. The reassuring tone of a well-trained, committed, and empathetic agent can make all the difference, turning a stressful customer interaction into a positive experience.
THE IDEAL BPO DESTINATION
So, how does the retail sector respond to the realities of exceptionally high interaction volumes in the face of staffing challenges? In this context, the role of Business Process Outsourcing (BPO) providers becomes crucial. Many of these providers are well-versed in the processes and skills required by major retail and luxury brands. They can offer rapidly scalable and agile solutions that adapt to quickly fluctuating volumes.
For many good reasons, South Africa has emerged as a global Business Process Outsourcing (BPO) industry leader. The country boasts a large, highly trained workforce, with agents who are skilled in customer service and possess a high degree of emotional intelligence. These factors, coupled with a strong cultural affinity with the UK and proficiency in business English spoken with a neutral accent, ensure seamless and effective communication and positive customer experiences. This makes them particularly adept at handling complex customer interactions requiring a nuanced approach, a skill set invaluable during high-stress periods like the peak shopping season.
In addition to its human capital, South Africa offers advanced technological infrastructure that meets international standards. Also, the country's robust data protection and protection of personal information laws (POPIA) closely align with GDPR and other global standards, adding an extra layer of security and making it a trustworthy outsourcing destination.
The fact that South African BPO services are highly cost-effective cannot be overlooked. With a favourable exchange rate and competitive pricing models, UK retailers can achieve significant cost savings without compromising service quality.
Given these factors, South Africa stands out as an ideal BPO destination, offering a comprehensive and compelling solution for UK retailers seeking to outsource voice call services, especially during peak seasons.