Financial Constraint Underpins Growing Urgency & Complexity of Customer Contact across Europe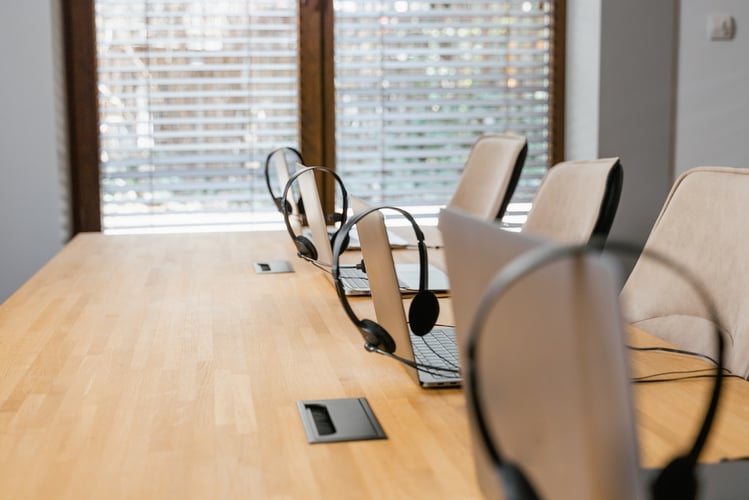 By Stephen Yap, Research Director, CCMA UK
Research launched by the European Contact Centre & Customer Service Exchange presents clear evidence that customer expectations, influenced by economic pressures, have accelerated quicker than providers' ability to meet them.
The Voice of the European Contact Centre Consumer 2023 reveals that in each of the six markets it conducted the research in, the proportion of people who say customer service is getting worse is larger than the proportion who say customer service is improving. The gap is biggest in the UK (34% say worsened versus 18% say improved).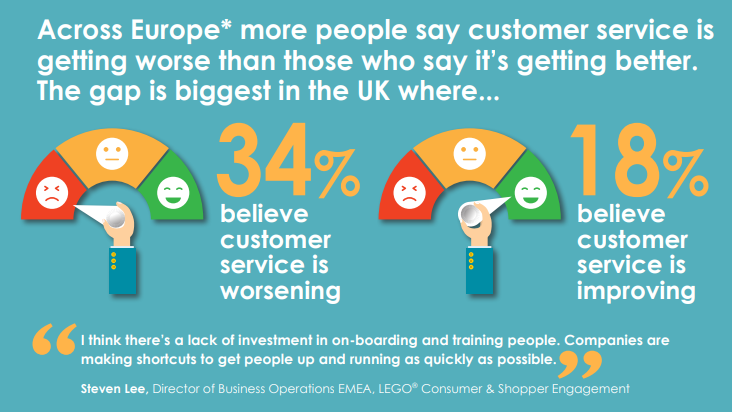 This ground-breaking comprehensive study uncovers how customer contact needs, expectations and behaviours are evolving across six of the largest markets in Europe: Belgium, France, Germany, Netherlands, Spain and the UK. It was supported by the European leading Contact Centre as a Service (CCaaS) provider, Odigo.
Perceptions of customer service vary widely by age group, with people in their twenties and younger tending to be more positive and people aged 45-64 being the least positive. This is attributed to a number of factors: younger people tend to be quicker to adopt digital channels, and people aged 45-64 are finding it particularly difficult to manage their finances. Consumers who are experiencing financial constraints tend to take a more negative view of customer service as the rising cost of living drives up expectations of providers, pushes consumers to shop around and be as informed as possible.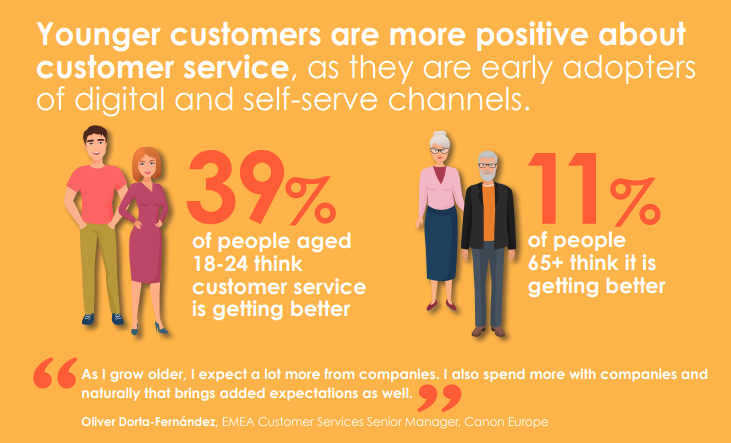 A tide of customer frustration borne of unmet expectations is being felt directly by people working on the front line. Across the six countries, 52% of consumers report having been angry or upset when interacting with a contact centre advisor in the past year.
Consumers in Spain and France are most likely to report having been angry or upset when interacting with a contact centre advisor in the past 12 months (65% and 61% respectively). It is an urgent priority for contact centres to adapt their training to help deal with the high levels of complexity and emotion that now characterise many assisted interactions.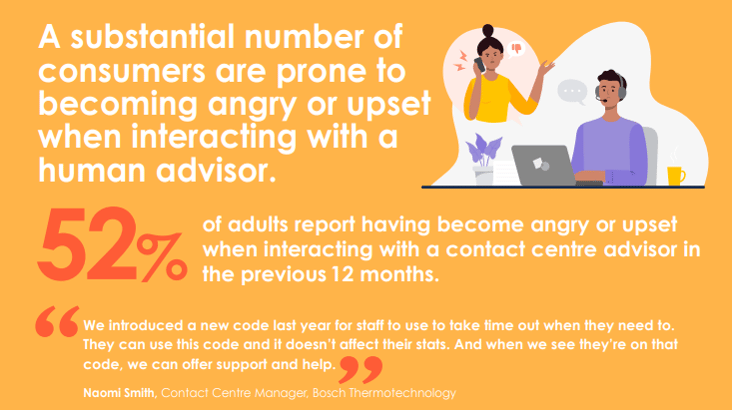 Importantly for organisations serving customers in multiple European countries, there are several trends in the data which can help brands tailor effective customer-centric strategies (such as customer preferences when it comes to self-service or certain queries). Out of the six markets, for example – while the UK and Spain both rank the highest for negative opinion of customer service, Spain also had more positive ratings and better overall result. Additionally, sectors on the front line, fielding high numbers of calls from vulnerable citizens in difficult times, received poorer feedback, namely utilities and government. Both are among the sectors most affected by ongoing global economic and social upheavals.
In a time of widespread uncertainty and financial constraint, people all across Europe expect timely resolution of their queries more than ever before. There is overwhelming evidence that regardless of whether or not service standards are objectively improving, organisations are not keeping up with consumer expectations. This research is an urgent reminder of the need to continue investing in the customer experience; to address the root causes of customer frustration; to protect and support the front line who must deal with disappointed customers every day.
You can download the research report or watch the webinar launch with Stephen Yap, Research Director at the CCMA UK, Oliver Dorta-Fernández, EMEA Customer Services Senior Manager at Canon Europe and Sophie Chelmick, Executive Vice President EMEA at TDCX, Spain.