The Strategic Importance of the Contact Centre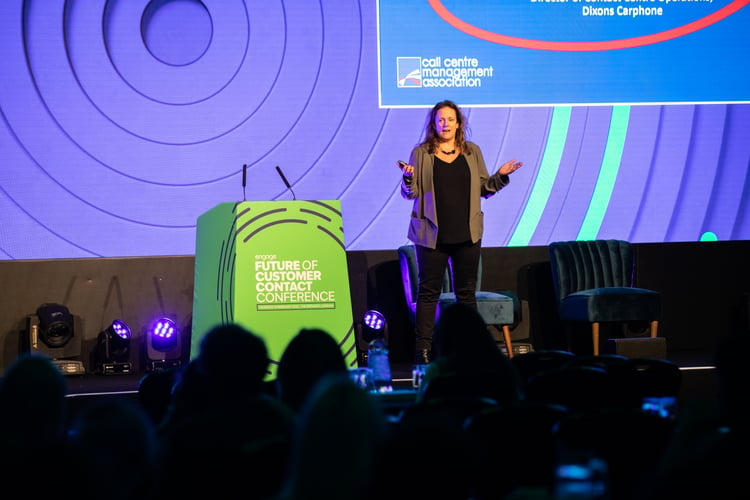 By Leigh Hopwood, CEO of the Contact Centre Management Association (CCMA)
Events over recent years have demonstrated that the contact centre is a strategically important function in any business. Its unique position of listening to customers, whilst also playing a critical role in their loyalty, cannot be underestimated. As we move through difficult economic times, brands are looking at how to retain customers whilst trying to grow. The contact centre must play a central role in this strategy because of the power that it wields.
The pandemic was a milestone in the evolution of the contact centre. CEOs quickly recognised that in order to continue to support customers through a period of significant changes in wants and needs, they had to listen to them. The only place they could really do that was in the contact centre. So, it's no surprise that the CCMA (Call Centre Management Association) reported CEOs spending time in the contact centre listening to calls throughout 2020 in its Evolution of the Contact Centre research programme.
The question is, what has happened since? Did the pandemic open the eyes of senior business leaders to the value of the contact centre and given it the attention and investment that it needs?
Following the pandemic, many businesses strengthened the collaboration between the contact centre and other functions. Those businesses that have created a fully integrated approach between the contact centre, sales, marketing and product, are realising the benefits that this brings; improved customer experiences, increased FCR (First Contact Resolution), reduced complaints, significant efficiency gains and a happier workforce.
PRESSURE ON THE FRONTLINE
It is widely reported that customer service isn't as strong as it could be. However, it could also be argued that customer expectations are increasing fast. Customers want a resolution quickly when they make contact with an organisation – it is the aim of all contact centre leaders to deliver that, which is why self-service channels have been heavily invested in. As a result, the interactions that the contact centre now deals with are more complex and sophisticated, and may not result in a resolution quickly.
Combine this with consumers seeking reassurance and support from organisations that are going through financial hardship or that are vulnerable, and the pressure on the front line is growing.
As a result of the change in contact types and vulnerability, the impact on frontline colleagues is mounting. The CCMA recently reported that many advisors experienced symptoms of stress or exhaustion. Contact centres are fast-paced, unpredictable environments that demand a lot from the people who work in them. Difficult customers and user-unfriendly systems exacerbate the cognitive load and accelerate the drain on advisors' energy.
There is renewed focus on looking after the wellbeing of employees, especially given the recruitment challenges that many industries are facing, and also giving them learning opportunities and the chance to build a fulfilling career.
It's no surprise that the focus for business in 2023 is to retain colleagues, retain customers and to innovate in order to survive. According to Forbes, 96% of customers would leave your business if you deliver a bad customer experience. There are several strategies to adopt to retain customers, and one of them is to add value to the relationship and deliver exceptional service, every time.
At least, in line with brand expectations.
CLOSE THE GAP
Marketing takes responsibility for brand. They define its values, its identity and often the experience. If the entire organisation is onboard to deliver on those values and the experience, then brand loyalty often follows.
This is where organisations that are very joined up can exceed. If marketing promote a brand promise of exceptional service, but the contact centre is unable to deliver on that service due to systems, processes, or their approach to the employee experience, then it may deliver a service that is not in line with the brand promise, thus a 'bad customer experience'.
Let's take a low-cost airline and a highly regarded airline to illustrate the point. Your expectations from a low-cost airline may be to simply get to the destination around the time you're expected to arrive, with your luggage intact, with crew that are polite – this could be deemed a great customer experience. However, for the airline that has positioned itself as delivering high quality service, they could deliver the same experience but because customer expectations are much higher, for example more friendly crew, fast baggage to the carousel, customers may deem the experience below expectation and opt for a different airline next time.
It has never been more important to get the experience in the contact centre right. With competition intensifying and social media amplifying poor experiences, your brands reputation is in the hands of every advisor in the contact centre. Get it right and the rewards are significant, not only on revenue growth but also on the potential cost savings. Above all, working in an environment that has got it right can be incredibly rewarding for all those working there.
Closing the gap on what customers expect and what the contact centre delivers is therefore critical. Whether driven by contact centre leaders, CX strategists or the CMO (Chief Marketing Officer), these three functional areas need to be working closely together to constantly review the gap between what marketing is promising and what is being delivered. The closer the gap, the less customers you will lose.
INSIGHTS ARE KEY
The good news is that the volume of data and insights held within the contact centre can monitor this progress, and really influence business change. Monitoring and measuring contact centre performance in minutia detail has been prevalent for decades. Usually used to drive up performance, leaders are now using this insight to make a real difference elsewhere in the business.
For example, identifying issues with a product or service. An increase in reports for a specific product can be recognised quickly, fed back to the product team and the necessary changes made with proactive customer communications, thus reducing customer contact and improving the customers' experience of the product and your organisation.
Here's another example. Problems in the supply chain are often identified first in the contact centre because customers will report it first. For retailers, customers will also tell you how well delivery partners are performing, giving you the opportunity to better manage your partners.
The list goes on.
Listening to customers and acting on their feedback is more imperative than ever before. And times have changed. Asking customers for feedback is less popular as the results may be skewed. Systems that really listen to customer conversations and pick up on the issues and the sentiments are growing in popularity as they report insights from 'in the moment'.
The exciting thing about all this is that the contact centre has the power to change the future of an organisation. That is how strategically important the contact centre has become. From its ability to listen and influence, to delivering a service in line with brand expectations, the contact centre has finally found its voice within an organisation.