There Are Two Mantras Of CX, But Do We Believe in Them Enough to Live Them?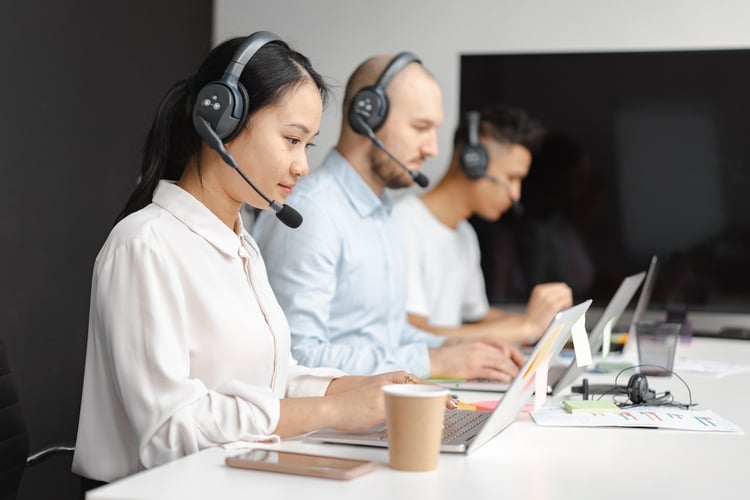 By Dave D'Arcy, Founder of Laughing Leadership
"Happy staff make happy customers!" and "The customer is at the centre of everything we do!"
There we have it. Two mantras frequently wheeled out for the world to read and hear. C-suite executives declare them to their employees and the media. I have no doubt that every CEO and their executive colleagues mean them when they say them. I am sure that they fully endorse the statement that their business' lifeblood is the customer. Moreover, that if happy staff really do make happy customers, then by extension the happy team member is the oxygen in that blood.
This brings me to consider two other questions: What do businesses do to create happy staff? And what does a customer experience from the centre of everything we do look like?
I would like to explore both in turn.
First, let's look at the happy staff member, we will call him Keith. Keith enjoys his job, he has friends at work, the pay is decent, and there is free fair-trade coffee and tea. On Friday, he gets free fruit and once a month, the company has a 4pm happy hour on the last Friday. Who doesn't like free beer, wine, or soft drinks?
Keith gets 25 days holiday and even his birthday off. Life is pretty good. Yet, in the employee engagement survey, does Keith score accordingly when asked if he understands his role in the business objectives? Or if he feels communicated with? If he feels valued for his contribution? Does he see a clear career path, and does he understand his personal development goals?
You see all these factors are really at the crux of what makes an employee happy. Feeling empowered, trusted, and valued. Having a sense of input in how the task is completed or the business operates will facilitate the employee feeling aligned, affiliated, and invested in the company that employs them. Don't get me wrong the occasional night out on the boss does no harm. But when was the last time you stepped back to look objectively at your team's happiness?
Now, what about that statement about the customer at the centre of everything? I genuinely believe every business starts this way and that no business intentionally changes that approach. But sometimes the message gets lost. The pressures of business, P&L, shareholders, etc., can often make it difficult to keep that customer centricity. When there is shareholder pressure to improve profits, it takes a very strong-minded CEO to stand their ground and honour the belief that the much-needed profit growth may take a little longer but will be more sustainable if the customer takes precedence over short-term cost reduction.
It is, of course, essential that businesses stay efficient, that processes be lean, and that costs be controlled. However, this doesn't need to mean a necessary negative impact on the customer. An interesting aspect of that is the ever-growing move to AI. Most, if not all, businesses are now looking to adopt some form of automation, digitisation, or artificial intelligence. As King Canute discovered, the tide cannot be held back.
My question is, when looking at the implementation of these advancements, are business still putting the customer at the centre of everything? It can be very tempting to implement automated ways of conducting the current process but perhaps this is an opportunity to revisit the customer journey, and conduct customer focus groups. Is there a risk that some businesses, in the rush to be more efficient, are implementing AI that is focussed on the business need at the expense of the customer need? Remember that we don't want to restrict that lifeblood.
These are the questions that led me, after 7 years directing the customer care operations in two global communication SaaS businesses, to launch Laughing Leadership to help other business ensure they maintain these key focuses.
ABOUT LAUGHING LEADERSHIP
Laughing Leadership is a different offering to most. It is different in that the focus is on making work a truly fun place to be. With over 35 years in customer experience environments and over 20 years in senior leadership, I want to share my experiences with others. As a member of the Customer Experience Foundation Power 100 and a twice world best Director with Contactcenterworld.com, I hope others feel my opinions have value.
Laughing Leadership offers a range of services, with CX and leadership consulting being the primary offers. The business also provides a motivational public speaking option and aligned event hosting. I have done a great deal of public speaking over the last few years and anyone who has attended many an EXPO or other Customer or Communication focused event in the recent past is likely to have heard me cover my thoughts on leadership, customers, technology and much more. Or maybe you have been captured in one of my many selfies. Now I am keen to take this skill, mixed with my fledgling stand up comedy ambitions and teach the world to "professionally" laugh. And what can be wrong with that? We all need to laugh at life from time to time.
Contact Laughing Leadership at www.laughing-leadership.com or reach Dave D'Arcy directly at dave@davedarcy.co.uk or +44 7794 405796.