Ashley Barnett: "Coutts' 440 app was born out of a desire to connect with clients during COVID"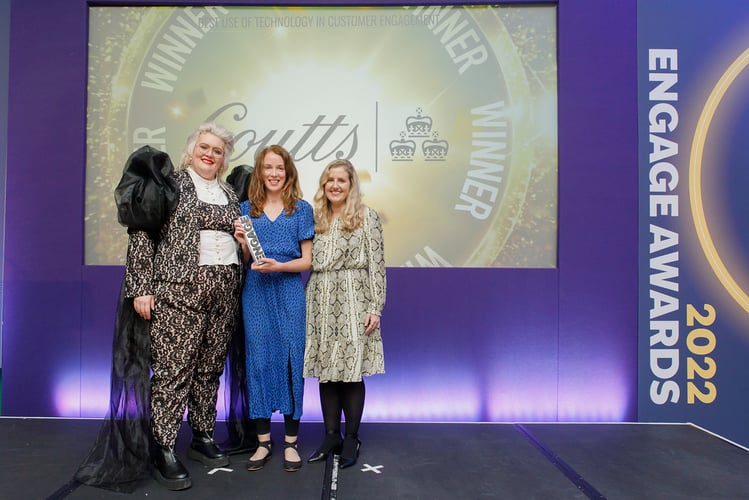 The private bank and wealth manager Coutts earned the Best Use of Technology in Customer Engagement award at our 2022 Engage Awards. This award recognised Coutts' development of 440: an invite-only social networking app. In an interview with Engage Customer's Editor, the Digital Platform Product Lead at Coutts, Ashley Barnett, discussed the awards and the 440 app in depth.
WHAT DOES WINNING THE BEST USE OF TECHNOLOGY IN CUSTOMER ENGAGEMENT AWARD MEAN TO YOUR COMPANY?
We were honoured to be recognised by the Engage Awards especially amongst our peers that are doing incredible work in the customer engagement space. For over three centuries at Coutts we have prided ourselves on our personal client service and being a trusted partner to the movers, shakers and trailblazers of our time and this was validation for our team that we are incorporating technology into our client service approach in the right way.
COUTTS WAS AWARDED FOR DEVELOPING 440: AN INVITE-ONLY SOCIAL NETWORKING APP. HOW DID YOU COME UP WITH THE IDEA TO CREATE THIS APP?
With our history in mind but with an eye towards the future, the 440 app was born out of a desire to connect with our clients beyond the boundaries of a global pandemic or geographic location and bring a little of the face-to-face Coutts magic through a digital community. Especially post pandemic, we saw the importance of reconnecting with clients in a more meaningful way and helping them develop deeper relationships with like-minded individuals.
Our events are one of the cornerstones of the Coutts experience, typically held in person and where we bring our clients together to hear from thought leaders, make purposeful connections, share business advice and forge long-lasting relationships. We thought, what if we could find a way to harness that in-person networking experience and expertise within our clients and Coutts internal experts to create a space for positive change and philanthropy initiatives, unlocking opportunities for our clients and their businesses and passions – and all within one app?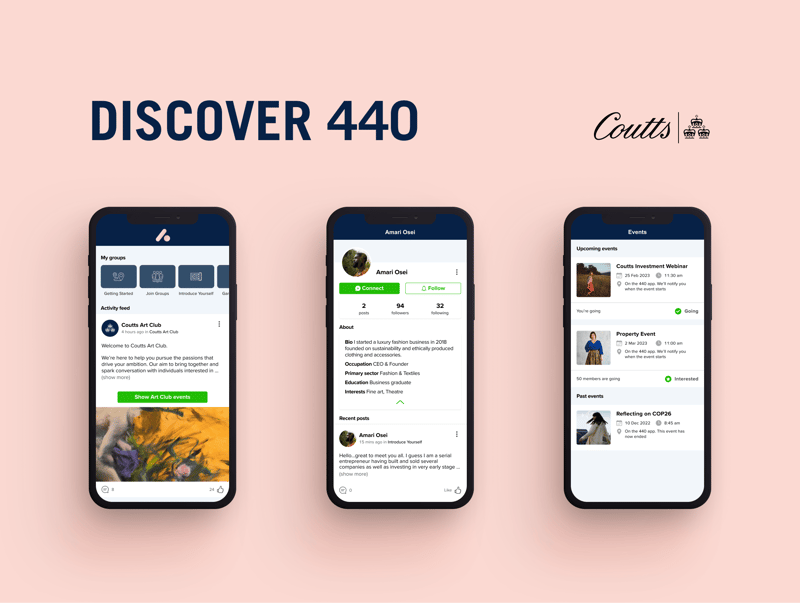 WHAT ARE THE CHARACTERISTICS THAT MAKE 440 STAND OUT?
The app was named by clients in a research session, after our offices on the Strand (where we typically host clients) and aims to build upon our personal service with clients. 440 offers live streamed events, exclusive videos and thought leadership, access to Coutts leaders, a podcast with our CIO and investment experts and private messaging for our members.
Ultimately, 440 is also inherently unique because of our diverse client base and to encourage interactivity among them in the app, we have created groups in the app which are centred around passions and experiences that our clients share.
For example, we offer clients the opportunity to join groups and connect with a fellow art collector or gallerist in our Coutts Art Club, understand their potential impact in our Philanthropy group, share their business knowledge in our Entrepreneurs or Interactive Entertainment group, or perhaps they want to learn more about becoming a B Corp in our B Corp and Sustainability focused group.
DID YOU FACE ANY UNEXPECTED CHALLENGES WHEN DEVELOPING THE SOCIAL NETWORKING APP? IF SO, WHAT WERE THEY AND HOW DID YOU OVERCOME THEM?
Within financial services we have certain regulations and standards we must adhere to in order to keep our clients safe, which can present challenges in developing something new. We faced this challenge head on and although we were the first banking client for the supplier of 440, we took an agile approach and worked in sprints with both legal and technical teams to make sure the solution met all our requirements. We also deliberately kept the 440 app and our banking app separate based on client feedback and to ensure all financial data is kept separate.
AS AN AWARD WINNER, WHAT ADVICE WOULD YOU GIVE TO OTHER COMPANIES THAT WANT TO ELEVATE THEIR CUSTOMER ENGAGEMENT USING TECHNOLOGY?
At Coutts, the key to engaging with our clients through any channel is to create personal service through a relationship led approach and make decisions that are steeped in client feedback. We are always learning, but continuous client engagement and research allows us to adapt to their expectations and design digital experiences with our clients in mind.
Engage Business Media would like to congratulate Coutts on their win once more. We hope that their story will inspire other organisations to be more innovative and to elevate their customer engagement using technology.
Those interested in sharing their success stories and entering the 2023 Engage Awards/Engage B2B Awards, can now submit their entries here.
The deadline for submissions is July 17th, with judging set to commence on July 24th.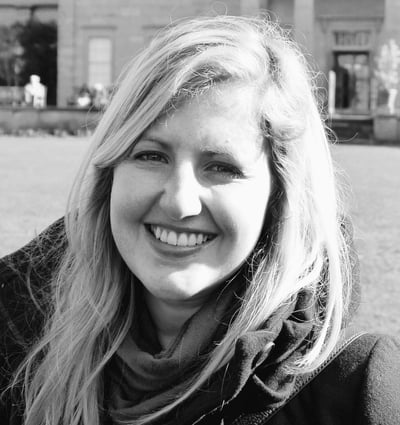 Ashley Barnett
Digital Platform Product Lead at Coutts