Brand Activation: Thought Leadership-Speaker Coaching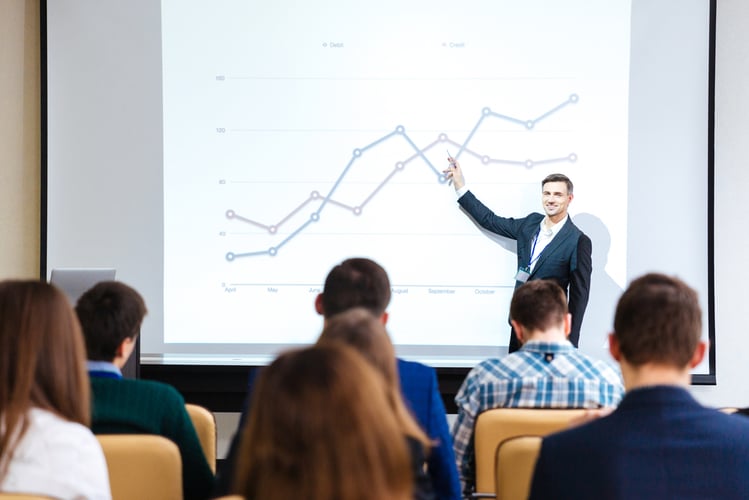 It takes a lot for a project to be a hit with all the judges and make the final of the Engage awards. To achieve it in THREE categories is something special.
A project run by Soul Corporations for global IT company Progress achieved just that.
How did they manage it? Here's a brief case study on this exciting project…
THE CHALLENGES FOR MODERN BRANDS
The world around us is evolving at breakneck speed. Our rapidly changing landscape means that modern brands must adapt to new ways of communicating. With higher volumes of content flooding every channel, the opportunities to achieve salience in the hearts and minds of potential customers are at a premium.
Modern brands need to find innovative ways to communicate important priorities persuasively and authentically. There are great opportunities to achieve this when executives and key professionals address key internal and external audiences: at forums, events, panel discussions, conferences - inside and outside the organisation.
There are today many industry events where branded content is presented. When an audience experience an obviously self-serving or under-prepared presenter, it can mean a lost opportunity for a brand to communicate in a compelling way with key stakeholders. At worst it can cause permanent damage to a brand's reputation. Presenters can so easily fall into bad habits with presentations (especially with the advent of online presentations).
TRUSTED THOUGHT LEADERS
Some people just stick to the safety of a comfort zone, repeating 'old' content without energy or bothering to connect in a human way with their audience. They may just reading out the same spiel, blindly recycling pre-canned slides, often full of bullet points, and ultimately fail to connect in any meaningful way.
This project aimed specifically to help brand ambassadors achieve the elevated status of trusted thought leaders for the brand, as well as in themselves personally. To achieve this, they would need some expert presentation design and delivery skills to boost credibility and connection. Our aim was to help people deliver great, branded presentations online and in-person, to groups large and small.
THREE CLEAR BUSINESS OUTCOMES:
To establish key Progress people as brand-thought leaders when speaking to a variety of internal and external audiences

To develop a consistent brand reputation as a software provider of choice, employer of choice and acquirer of choice

To showcase the skills and talent of Progress' leaders and innovators
A COACHING PROCESS - ALL ONLINE!
The process involved a comprehensive, personal, practical, in-depth, flexible, four-step development process culminating in a live online presentation to allow for international participation. Groups size was kept to four to six and sessions to four hours maximum at a time to balance the need for a high level of intimacy and support in an online scenario with busy diaries.
The process was led by Nicholas Brice, CEO Soul Corporations® and award-winning international keynote speaker, culture consultant, coach, and experienced TV/theatre director. He was supported by brand messaging specialist Veronica Hannon of Transform Communications to help delegates translate the company's brand proposition into inspiring examples and insights to create some bespoke online and in-person presentations.
KEY BENEFITS ACHIEVED
We helped people take a brand proposition from the printed word and corporate PowerPoint slides and into the hearts and minds of the people speaking to the industry and key customers. By connecting people personally to the core corporate strategy means that the brand lives in the real world. In this project, we created a fully connected methodology with personal coaching and feedback to give senior leaders and key professionals the confidence to show their true selves when presenting under the banner of the brand.
We created a safe space for them to be authentic, have some fun, and be honest and even vulnerable. We helped people create stories that would connect and live on in the hearts and minds of the people they would be talking to in the future.
The presentations were attended by a handpicked group of key people to give detailed positive and developmental feedback to each presenter. The insights from the presentations also helped the marketing team shape a range of PR initiatives moving forward.
IN SUMMARY
We don't believe it's as simple as there are just good and bad presenters. There are people who come fully alive when they speak from their authentic true selves, and there are people who try to show off, speak as walking automatons or just shrink away under the pressure of the performance and their fear of being judged. We helped our participants develop competences in design and delivery and to highlight the value of speaking effectively we encouraged people not to use PowerPoint visual aids.
Our presenters showed tremendous courage, skill, and humour, and demonstrated powerful presence and impact: so much better equipped to present the Progress brand in the best possible light in all the opportunities they will have moving forward.
FIND OUT MORE
Some of the ideas and tools used in this programme are covered in the new book from Soul Corporations® - The Mindful Communicator by Nicholas Brice (Amazon, Nov 2022).
Order a copy for you and your team now - here.
To discuss this brilliant project further, you can contact Nick directly at nick@soulcorporations.com or +44(0)7778-356954.