Customer service departments to benefit most from digital transformation boom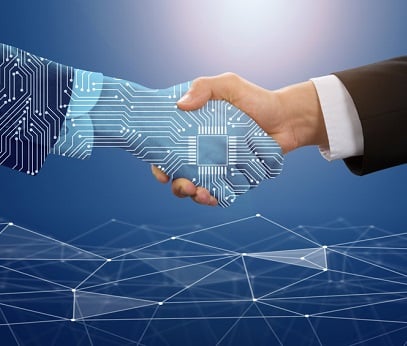 Customer service teams are set to undergo major digital transformation and growth over the next five years, with business leaders having identified the area as being the next business function set to be revolutionised by technology.

According to a new survey into the thoughts and expectations of business leaders across the country, carried out by cloud-based accounting specialist bluQube, almost half (43%) of businesses believe that customer service departments are set to benefit the most from technological innovations over the next five years. Encouragingly, this follows reports of more than one in four businesses (28%) having already seen their customer service teams positively impacted by technology.

When asked how digital transformation will impact their business, almost two-thirds (65.3%) of respondents cited improved efficiency as being the most prominent benefit felt. Notably when it comes to customer service, almost four in 10 businesses (39%) identified an improved customer experience as a major benefit of implementing new technologies, such as cloud, mobile technologies and interoperable systems.

While businesses continue to recognise the importance of the human touch in customer service, with 90% identifying human interaction as either "mission-critical" or "significant" in providing a first-class customer experience, it is clear that this will be supported by innovative technologies that augment and empower customer service agents.

The research is compiled in the bluQube: Digital Transformation & Next-Gen Business Technologies report, which lifts the lid on business leaders' attitudes toward digital transformation and technologies in a unique, cross-sector way.

Simon Kearsley, CEO of bluQube, commented: "While the enforced shift to our working patterns over the past couple of years has created a number of significant challenges for many, there has also been a renewed focus on how technology can better support day-to-day working. Subsequently, we are seeing many departments placing a greater focus on digital transformation, to the benefit of all.
"Our research shows that many businesses have already seen significant benefits from implementing new systems that enable them to work more efficiently, including more transparency and a better level of customer service, all enjoyed at a lower cost than previously.

"Customer service departments have already been transformed by innovative technologies and, encouragingly, it appears that the best may be yet to come. For those that have not begun their digital transformation journey in earnest, we would urge looking at where technology can deliver results quickly. Specifically, businesses can use technology to automate more menial, repetitive tasks and free up their teams to devote more time and energy to the more involved, strategic tasks that will have a real long-term impact on the company bottom-line."