Karen Stewart: "I Am Eager to Keep Leading Industry Conversations Around Vulnerability"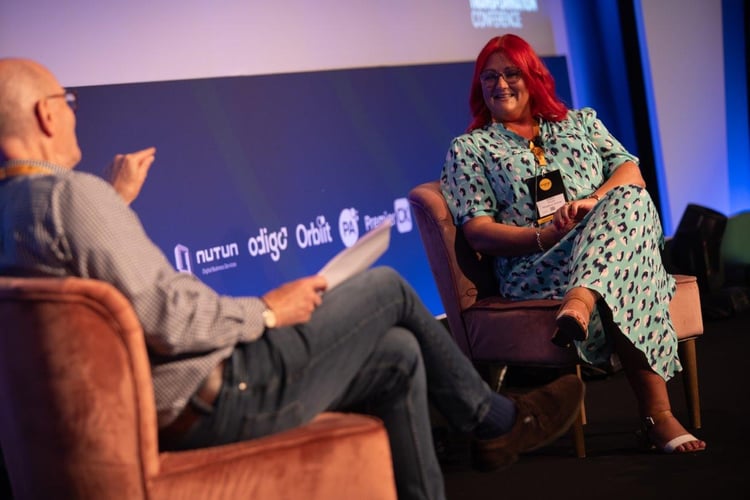 Earlier this year, we held our annual Customer Engagement Transformation Conference, where 40 speakers took to the stage to share how they are tackling today's challenges. One of these speakers was Karen Stewart, who provides consultancy across Phoenix Group, supporting vulnerable customers and delivering innovation. Speaking to Engage Customer following the event, Karen delved deeper into the topics she discussed and the key takeaways from her story.
PLEASE INTRODUCE YOURSELF AND YOUR ROLE.
I'm Karen Stewart and I'm responsible for our Vulnerable Customer Centre of Excellence at Phoenix Group. I bring external vulnerability experience from my previous roles in the energy sector and initially led the Vulnerable Customer Programme in 2022 before moving to lead the new Vulnerable Customer Centre of Excellence which was created in early 2023.
The Centre of Excellence's purpose is to support noncustomer facing colleagues with practical application of principles and standards and to develop market & thought leadership through collaboration and best practice as well as embedding our vulnerability strategy across the group. I lead a small team as part of my role as well as working with a team of more than 20 Vulnerability Champions in various senior roles across Phoenix Group covering departments such as legal, marketing, product and proposition and customer experience.
WHAT WERE THE MAIN REASONS FOR SHARING YOUR STORY AT OUR CONFERENCE?
Our strategy has been very successful, winning several awards. Ultimately, regardless of your industry, we all share customers. There are pockets of excellence regarding supporting customers who may be facing vulnerable circumstances and I am always keen to find opportunities to share our successes whilst collaborating with others to continually evolve our learning. Achieving our successes hasn't been overnight, it has been years of continuously evolving and testing and as one of our strategic pillars is thought leadership, I am eager to keep leading industry conversations around vulnerability.
WHAT ARE THE BIGGEST TAKEAWAYS THAT OUR COMMUNITY CAN LEARN FROM YOUR STORY?
Leadership is key in creating a strategy that will "stick" and be seen as cultural change rather than another initiative. We've had substantial backing from our board including financial backing, investment in our team and their buy-in to our strategic ambition. We also benefit from senior sponsorship from our Open Customer Director. Having this buy-in helps us really embed accountability for vulnerability with Senior Leaders and keeps it at the forefront of agendas. Our sponsor keeps us accountable whilst providing backing and challenge to really ensure we deliver good outcomes for all customers, including those in vulnerable circumstances.
Embedding vulnerability consideration into non-customer facing teams is also vital. If you design products, services, and communications without considering the accessible and inclusive design, you could fail to meet the needs of customers and ultimately frontline colleagues will be the ones to handle those difficult conversations. Building understanding and vulnerability consideration into these early stages will help ensure products and services are more suitable and less exclusive.
ARE THERE ANY PROJECTS THAT YOU'RE CURRENTLY WORKING ON THAT YOU'RE EXCITED ABOUT?
There are several projects in place just now including updating our award-winning immersive E-Learning that we've created with Cowry Consulting. This is always exciting as we receive fantastic feedback from colleagues about how the learning will support their roles.
I'm also excited about rolling out our vulnerable customer toolkit to more colleagues across Phoenix Group. We are currently going through accreditation for this training with the Institute of Customer Service so being able to recognise colleagues who have completed the learning with a certificate will be great. I'm also very excited about how we continue to share our story.
We recently held an in-person vulnerability summit with Scottish Financial Enterprise bringing together key industry leaders from a range of Scottish financial firms to share best practice and commit to working together. We are looking at creating a further event later this year as well as visiting our UK and Ireland offices to host vulnerability roadshows and give all colleagues the opportunity to hear more about what we are doing to support customers in vulnerable circumstances as well as supporting colleagues who deal with these conversations.
LOOKING TO THE FUTURE, WHAT WOULD YOU SAY ARE THE KEY TRENDS SHAPING THE INDUSTRY?
Proactive analytics and AI tools are featuring more in conversations. These absolutely have their place and will help companies be more pro-active than reactive; however, I believe kindness and creativity can't be overlooked.
A quote by Brene Brown always resonates with me: "Vulnerability is the core, the heart, the centre, of meaningful human experiences." To deliver good customer experience, we need to be kind as tools can never convey this in the way human kindness shows up.
Data sharing is another key theme which I believe will continue to grow. There are obvious risks that can come into play when we start talking about data sharing. However, I am hearing more interesting conversations around how collaboration will help make disclosure easier for customers.
The final trend is normalising disclosure/removing shame. In society, there has been a significant shift in normalising mental wellness conversations, which is fantastic. I hope to see normalising vulnerability conversations move more in this direction too.
Over the coming days, we will be publishing similar interviews, podcasts, and articles featuring speakers from our 2023 conference – make sure you continue to watch this space to always be informed!