Companies reveal how you can improve your customer contact strategy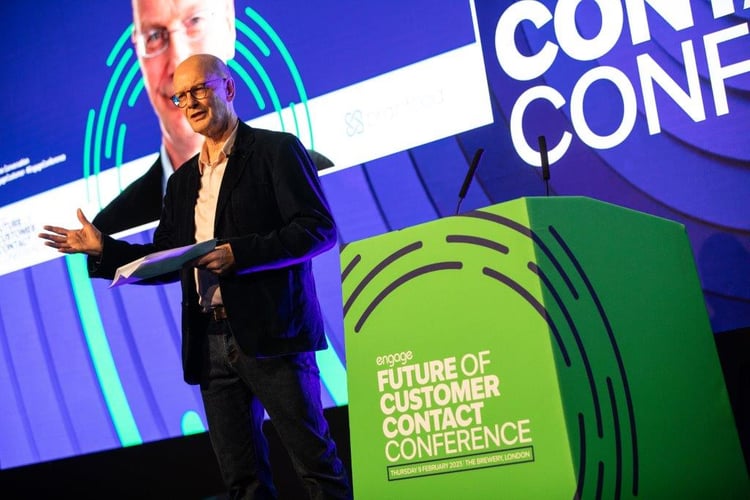 Last week, we held our first event of the year: the Future of Customer Contact Conference. Not only was this our first event of 2023 but it was also our first event at our new home, The Brewery. With presentations, fireside chats, roundtable sessions, and 121 meetings taking place in different rooms across the 3-storey venue, our 450 attendees were spoilt for choice. What is more, they had the chance to hear from speakers representing brands such as John Lewis & Waitrose, RingCentral, Asda, Affinity Water, E.ON, New Look, New Balance, and many more.
As Engage Business Media's Editor, I had the pleasure of sitting in on many of the event's sessions. The themes I noticed coming up repeatedly revolved around the value of contact centres, the importance of supporting frontline agents, and the future of customer interactions.
CONTACT CENTRES KEEP YOU CLOSE TO CUSTOMERS
Leigh Hopwood, CEO of CCMA (Call Centre Management Association), argued that the contact centre plays a crucial and strategic function in any business. Expanding on this, she reminded the event's attendees how COVID elevated the position of contact centres, proving that they are front and centre when it comes to learning what customers want and need. Contact centres will continue to prove their value as the cost-of-living crisis is now driving up contact volume once again, with people seeking support and reassurance from agents.
Further stressing the importance of contact centres, Leigh quoted Forbes and revealed that 96% of customers will leave a business if it delivers a bad customer experience. With this in mind, she advised businesses to focus on 3 key things in 2023, namely looking after existing customers, retaining employees, and being innovative.
HOW TO SUPPORT FRONTLINE AGENTS
Throughout the day, many speakers acknowledged that frontline agents have the toughest jobs. More specifically, they acknowledged the challenges they face and discussed how businesses can support them. Taking a case in point, John Lewis' Head of Customer Care, Ray Biggs, revealed how the organisation is supporting its frontline agents by introducing wellbeing timeouts, virtual lunches, and wellbeing aids.
In 2022, John Lewis strengthened these efforts and adjusted to the changing demands of its employees, as the needs that arose from the looming recession differed from those that arose during COVID. As such, the company focused on building resilience, supporting psychological safety, and tackling burnout.
This year, John Lewis plans to take things another step further and focus on cultivating a sense of 'belonging'. To do so, it will address unconscious bias and cultural intelligence with the goal of promoting tolerance, understanding, and learning.
BUILDING SUSTAINABLE CONTACT CENTRE TEAMS
Dave D'Arcy, Senior Director of Customer Care EMEA at RingCentral, also discussed how companies can improve their contact centres. Focusing on frontline agents once again, Dave shed light on their struggles by pointing to their inadequate training, rigid work arrangements, and lack of timely feedback. Sharing how these challenges affect contact centres, he revealed that agent turnover is on the rise while agent productivity is falling.
Helping organisations tackle these challenges and build sustainable teams, Dave advised companies to:
Invest in effective training and onboarding.

Simplify hybrid agent scheduling.

Enable flexible schedules.

Automate and scale QA.

Provide personalised coaching.
THE FUTURE OF CUSTOMER INTERACTION
As its name suggests, the Future of Customer Contact Conference debated the future of customer contact by addressing automation, AI, machine learning, and the digital transformation. Two representatives from E.ON touched on these topics, sharing how they adopted virtual agents.
Explaining how they did this, the speakers revealed that their journey started in 2015 with the introduction of live chats. Since then, E.ON gradually introduced in-app messaging, FAQ bots, voice assistants, process bots, a bot factory, chatbot scaling, and finally, voice bots.
According to E.ON, their voice bot can handle up to 10 concurrent calls and is trained to support 3 countries. Furthermore, it can easily be rolled out to other countries in the future.
KEY TAKEAWAYS
With many companies now focusing on the wellbeing of their frontline agents, it has become evident that the link between employee and customer satisfaction is undeniable. With the outbreak of the pandemic, the introduction of remote work, and the cost-of-living crisis, it is not surprising that companies are strengthening their efforts to support the mental wellbeing of their staff.
In addition to this, the conference left many attendees thinking about the future of customer interaction and how the adoption of new technologies will shape the coming years. While some are celebrating the potential of AI and automation, others argue that they will not be able to replace personal touch.
Considering that there were 30 presentations at our event, the above stories offer just a glimpse of the many topics explored last week. Over the coming weeks, we will be publishing interviews, podcasts, and articles in collaboration with the event's speakers to offer you more content from the event and prepare you for the future of customer contact.