7 reasons your business should switch to a cloud technology solution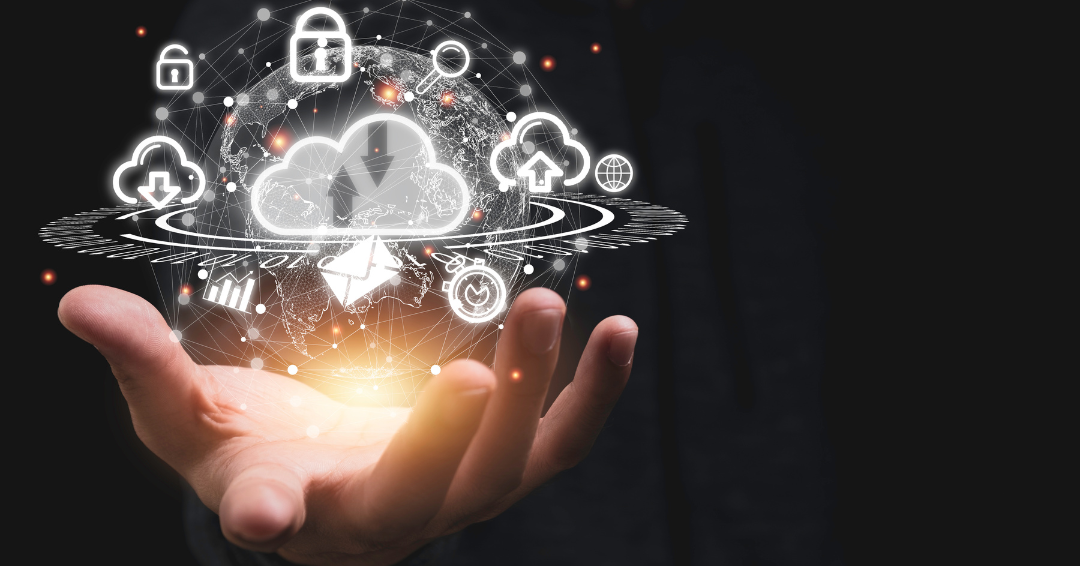 Moving your data to the cloud provides extra security, and with everyone working from a centralised location, you'll improve efficiency. Plus, if you haven't already made the switch to the cloud, you're likely being left behind. In 2021 alone, the public cloud infrastructure grew by 35%.
So, if your company hasn't already invested in cloud technology solutions, here are a few reasons you should consider doing so.
What is cloud technology?
The cloud is a virtual space which allows users to store software, data and programmes over the internet rather than on a hard drive.
Cloud technology solutions have changed how businesses store and share information. If your business hasn't already adopted cloud technology, you're already behind 94% of enterprises. So why should your business make the switch?

1. Scalability
Businesses that adopt cloud technology can quickly scale up or down as the company changes in size.
As the business grows, you can adjust the number of users who have access to cloud applications. The same applies to decreasing the number of users if you need to scale down. It's as simple as paying for your use and never worrying about capacity limits.

2. Flexibility
With the cloud being available anywhere and anytime to those with access, it adds flexibility to your business.
With hybrid working now a norm within society, cloud technology facilitates easy home working. Instead of storing data on a server within your office, users can access the files and data they need as long as they have an internet connection. Businesses utilising the cloud during the COVID-19 pandemic could adapt to home-working much more efficiently.

3. Collaboration
By aligning your business processes using cloud technology, you'll enable greater efficiency with every team member working from one centralised system.
With cloud technology, you can overcome geographic restrictions, allowing collaboration in the event of working alongside overseas teams. Using cloud technology solutions means you can share information more efficiently and speed up the decision-making process within your company.
4. Cost-effectiveness
Although cloud technology involves initial setup costs and training, it's more cost-effective than investing in hardware, software licenses and in-house technicians. You can store your data on the cloud without setting up an in-house infrastructure and dedicated IT team.
Plus, cloud systems allow you to be flexible with your budget. Business cloud services come with a monthly or annual expense, which you can easily factor into your budget.

5. Data backup
Data loss can happen to any business and the results can be devastating, with many businesses closing down soon after significant data loss. It can occur anytime due to hardware failure, power surges or even damage to external hard drives.
You add an extra layer of protection by backing up critical data to the cloud, keeping your data safe and accessible.
6. Data security
The cloud offers a layer of security that physical servers and data centres can't. In a breach of security within your business, data can be compromised if laptops or computers are stolen or damaged.
Plus, breaching security measures on cloud-based software is difficult. Information can also be transferred or deleted from any location with internet access.
7. Sustainability
Alongside the technical advantages cloud technology solutions offer, they also support the environment as opposed to more traditional methods. By moving away from processes that utilise paper and hosting on a centralised system such as the cloud, your work will result in a smaller carbon footprint.
Cloud technology also allows you to improve energy efficiency by not having to power physical hardware and reduce commuter emissions by opening up the possibility of home working.
HOW CLOUD TECHNOLOGY CAN IMPROVE YOUR CX
Cloud technology offers a range of benefits, including the ability to improve customer experience (CX), especially in contact centres. A cloud contact centre handles communication between customers and your business, allowing you to be constantly aware of how consumers view your company.
By increasing collaboration and efficiency using cloud-based software, you'll be able to keep pace with the demands of the market and analyse your customers' needs.
You may also have several channels through which customers can interact with your business, whether it's via website, email or phone. A cloud-based solution can eliminate communication barriers between these systems, improving productivity.
You could even go one step further and implement a CRM (customer relationship management) tool to see how you communicate with customers and whether your current processes need improvement.
Your company can reap the benefits of added productivity and efficiency by centralising your data and programmes on the cloud, making vital information accessible to all.
LEARN THE LATEST INSIGHTS AT OUR UPCOMING EVENT
Attend our Future of Customer Contact Conference on Thursday, 9th February 2023, and you'll learn from industry leaders about the changes contact centres are experiencing. At The Brewery, London, the one-day event will host 30+ exclusive presentations, roundtable sessions, case study presentations and more.
To book your place at this exclusive event, click below.