What To Expect from The Customer Engagement Summit 2023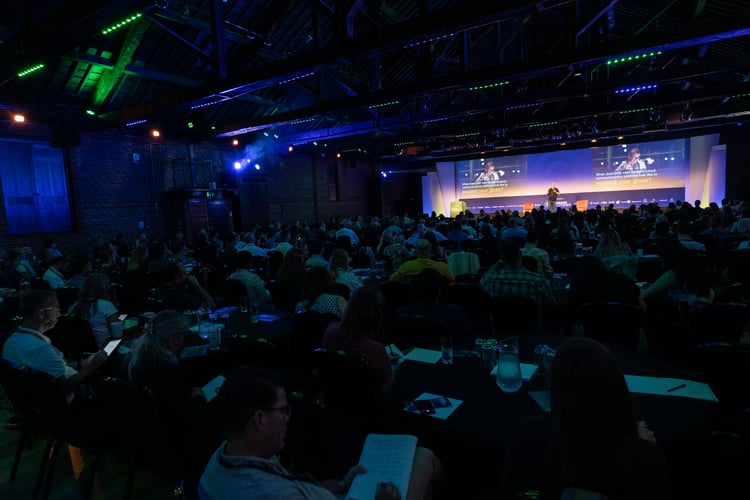 Celebrity headliners, CX experts, and industry-leading brands will explore human-centricity's role in cultivating customer belonging.
With our Customer Engagement Summit rapidly approaching, we are excited to shine the spotlight on what you can expect from our flagship event. Taking place on November 28th at The Brewery in London, the Summit will welcome over 1,000 attendees and feature more than 100 sessions across 5 halls. Some of the speakers that our delegates can look forward to hearing from include representatives from world-leading organisations and brands including Heathrow, Ford, Tide, Harrods, BNP Paribas Real Estate, Formula E, OVO, Ipsos, Les Mills, and others.
ONE KEY THEME
This year, our case study presentations, fireside chats, panel discussions, 121 meetings and roundtables will all link back to one key theme: 'The pivotal role of human-centricity in cultivating customer belonging'. At the same time, they will address some of the key issues presented by 2023, exploring how to enhance the customer journey, create value in the contact centre, use customer insights to personalise CX, engage with digital customers, and link the voice of the employee with the voice of the customer.
Taking this further, speakers will explore marketing's role in enhancing CX, the evolution of CX service design, Artificial Intelligence and robotics, and the latest innovative strategies in CX. Most importantly, they will showcase how they are keeping both their customers and their people engaged.
OPENING KEYNOTE
The Summit will begin with a reveal of our '2023 Global Voices of Experience' research, which we conducted in partnership with the multinational market research and consulting firm, Ipsos.
While the immediate pandemic threat has receded (but not disappeared), many other factors – political, economic, social and environmental – continue to disrupt our lives. In today's poly-crisis world, lives are changing – often not for the better – and customers are adjusting their priorities, expectations and loyalties as a result. That is why, building strong relationships by delivering what customers want and need is imperative.
During their session, Ipsos will reveal why the top 3 priorities for CX teams today are focusing on strategic roadmaps, delivering personalised customer experiences, and closing the gap between brand promise and CX delivery.
CELEBRITY HEADLINERS
We are also excited to reveal that our Customer Engagement Summit will be headlined by the former Arsenal Captain, England Centurion and BBC & Sky Sport Presenter, Alex Scott MBE. Alex will be interviewed by another icon of British sporting success, namely the Former World Badminton Champion, Gail Emms MBE.
During this exclusive interview, Alex and Gail will focus on high-performance team mentalities, building successful teams, leadership, becoming your best self, overcoming diversity, and breaking through glass ceilings as a female in a male-dominated industry.
Knowing that there is a direct and positive correlation between employee and customer engagement, it is crucial that we know how to build, lead, and engage our teams.
MEET OUR INDUSTRY LEADERS
This year, we've launched the Meet Our Industry Leaders interviews. As part of this, we're interviewing some of the industry's most successful and experienced professionals, talking about their careers, how they've become senior leaders within the industry and the highlights (and challenges) they've faced.
The Customer Engagement Summit will feature 2 such interviews, one with Nathan Sanders, Head of European Contact Centres at Ford, and Lindsay Mitchell, Head of Customer Service Experience at Harrods. Nathan has been at Ford for 27 years, during which time he held 13 different positions at the company. Similarly, before moving to Harrods, Lindsay spent over 20 years working at Phillips.
Therefore, both Nathan and Lindsay have decades of experience in the CX world. Now, we are eager to find out how they climbed the ladder and what lessons they learned along the way.
These interviews will be especially interesting for those aspiring to follow in the footsteps of CX industry leaders.
BEST PRACTICE CASE STUDIES, DEBATES ON HOT TOPICS, AND MORE!
In addition to the above, our delegates can discover the innovative and disruptive CX strategies of the organisations keeping customers engaged in 2023. More specifically, the Summit will feature case study presentations from Heathrow Airport, Newcastle Building Society, Ella's Kitchen, Utilita Energy, and others. Our event chairs will also host exclusive fireside chats with CX experts from BNP Paribas, OVO, Formula E, and Experian and our speakers will take part in panel discussions to debate the challenges/opportunities in customer engagement and how to create a customer-centric culture.
View the full agenda to find out who will be taking the stage on November 28th, what they will be talking about, and at what time their session will take place. More importantly, make sure you register to claim your FREE ticket!
WHAT DOES YOUR FREE TICKET GET YOU?
Your free event ticket guarantees you far more than just entry to the Summit. While the main benefit of the ticket is certainly gaining access to the content, your ticket provides an array of other benefits.
Registering to attend will grant you access to our exclusive event app on the day. The Engage App will then offer you the chance to send our speakers your questions, participate in industry group chats and connect with others working in similar roles.
To fuel the day, you'll also benefit from refreshments from the moment you arrive as we will be providing breakfast, coffee break snacks and lunch prepared by ex-Nobu chef, Tom Gore.
Finally, the November issue of our Engage Magazine will be distributed on November 28th, making our attendees the first to get a hold of the latest copy.